News
Stay informed about the latest enterprise technology news and product updates.
CIO profession: The agony and optimism of the tech-savvy CIO
It happened at the end of a panel discussion on how the digitization of work (of the world!) is changing the CIO profession, and it was over in a flash. But the reaction — a burst of applause — to a question fielded by veteran IT executive Stephen Gold reflected the pressure CIOs are feeling about their jobs.

Download this free guide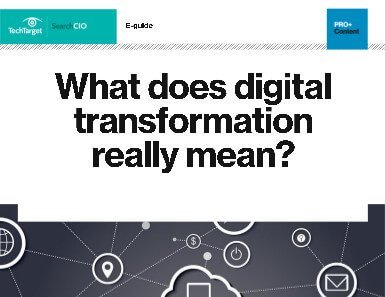 PDF: What does "digital transformation" really mean?
What exactly is digital transformation? You may hear the term often, but everyone seems to have a different definition. See how our experts define digitization, and how you can get started in this free guide.
Gold is CIO at CVS Health, the $180 billion corner drugstore chain turned pharmacy innovation company, as it calls itself. Over the past four years the Woonsocket, R.I. health care provider has relentlessly pursued a "customer centric" digital strategy, Gold told the audience at this year's MIT Sloan CIO Symposium.
The overhaul began with creating a "consistent digital image" for the customers and patients of its lines of business — CVS Pharmacy, CVS Specialty, the MinuteClinic, Caremark — each of which had its own website, mobile applications and development team. But that was just the "tip of the iceberg," Gold said. The adaptation of legacy IT systems to a digital marketplace at a company the size of CVS is such an enormous task. Indeed, the quest gave rise to the hiring in 2013 of a chief digital officer (CDO), Brian Tilzer, and in 2015 the formation of a digital innovation lab in Boston.
"You read the press — there is talk about the demise of the CIO, the rise of the CDO, but I don't see it that way. I don't see it as a threat," he said of CDO hire, noting that he strategizes with Tilzer all the time. "I view it as an opportunity. I was exchanging emails with him at 6 o'clock this morning on a trip we're taking to San Francisco."
Here was a CIO confident enough to voice what others in the room must have been thinking when they heard chief digital officer.
Training for the CIO profession
The MIT panel included JetBlue Airway's CIO Eash Sundaram and chief commercial officer Marty St. George. Shawn Banerji, managing director of the technology division at executive search firm Russell Reynolds, moderated the panel, which focused on how CIOs are adapting their organizations for digital times. Sundaram, for example, serves as chair of JetBlue's new venture capital arm in Silicon Valley, which seeks out startup technology — personalization, geolocation, virtual reality — that can be used to enhance the travel experience.
At the end of the session, Gold took a question from an audience member who identified himself as a former CIO and professor in the business school at Northeastern University. What should the IT curriculum cover to prepare a new generation for the rigors of the CIO profession? Should we be training students in computer science or be teaching something else? "It sounds like the traditional MIS curriculum doesn't fit anymore," the professor said.
"In my opinion, I would say it is an and, not an or. I still believe the chief information officer has to be a computer scientist or has to be an electrical engineer," Gold began. "You wouldn't have a chief medical officer that was not an MD," he added, his voice rising, "you wouldn't have a chief accounting officer that's not a CPA." That's when the applause broke out, first a single hard clap then a burst of applause and an affirmative shout out from the crowd — hear, hear!
It's not that CIOs need to write code, Gold said, although he still can, he noted.
"But you have to understand the architecture of how these systems get built and maintained," Gold said. "You have to continue to teach the fundamentals and on top of that teach them what it means to be a business-focused CIO."