News
Stay informed about the latest enterprise technology news and product updates.
Academics at MIT CIO Symposium advise on innovation, future of IT
CIOs look to the MIT CIO Symposium for information on management, technology and innovation. Those in attendance at the academic panel held in Kresge Auditorium in Cambridge, Mass., enjoyed a healthy helping of all three, as distinguished researchers from MIT's business centers offered ample insight into how successful organizations leverage technology to increase innovation and profit. Over the course of the hour, the audience heard about the power of collective thinking, the impact of Web 2.0 tools behind the firewall and the methodologies for innovation that have served to differentiate IT giants like Google from their competitors.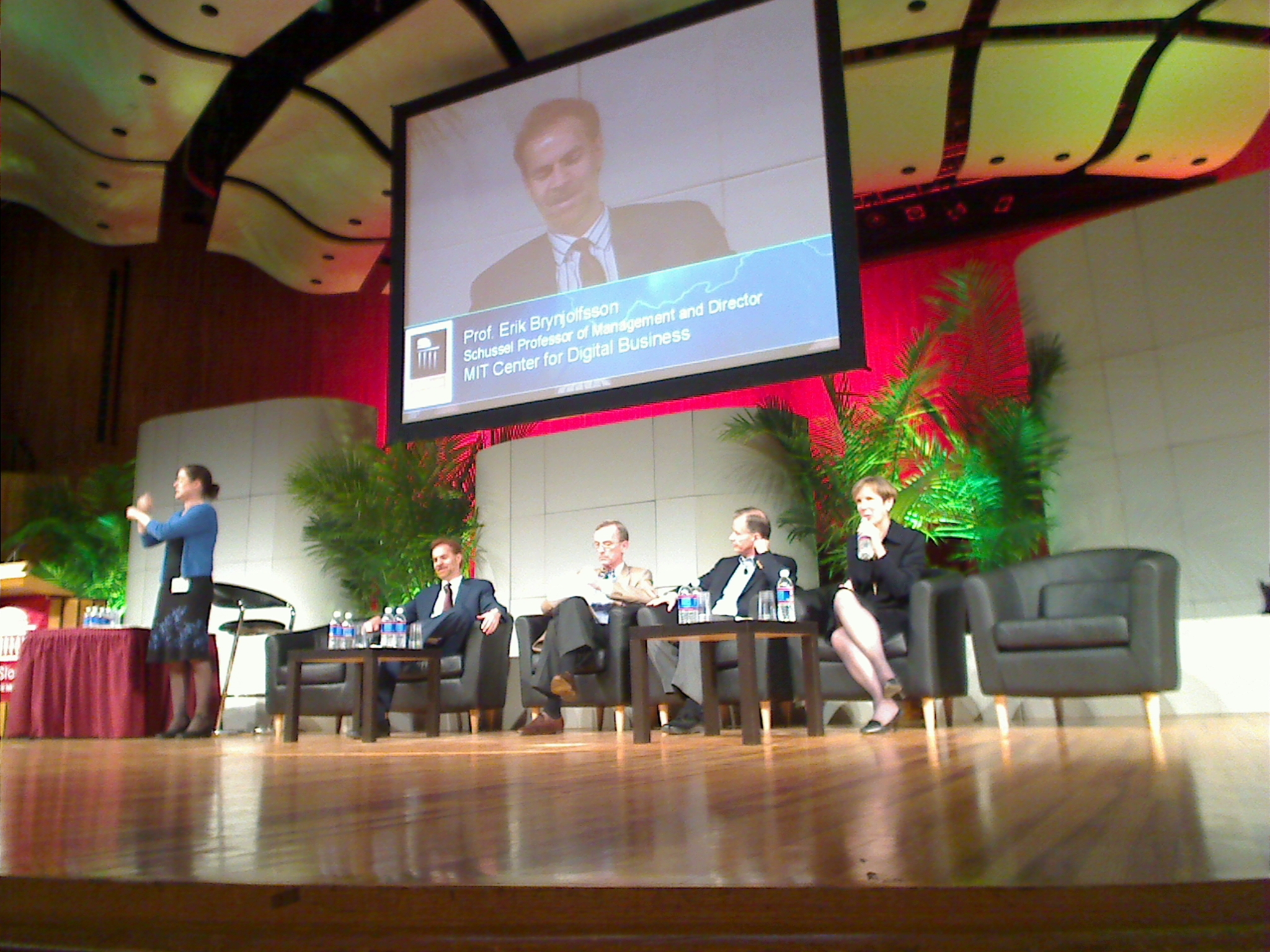 [From left to right: Prof. Erik Brynjolfsson, Gary Beach, Prof. Thomas Malone, Dr. Jeanne Ross]
The moderator for the panel, publisher emeritus of CIO magazine Gary Beach, didn't waste any time, asking each academic what "the next big thing" in IT was. Professor Thomas Malone, Director of MIT's Center for Collective Intelligence, noted immediately that the "elephant on the table is cloud computing." In his opinion, "It may well be the next being thing in the hardware progression." He chose, however, to focus on the power of collective intelligence.
His choice may not be surprising, given his research, but his coinage of the term crowd computing to describe distributed online collective intelligence turned to solving problems drew appreciative chuckles from the crowd. In Malone's view, the answers of the many, or so-called "wisdom of the crowds," is a powerful tool for organizations seeking answers to tough questions. Malone noted Twitter and Innocentive as two examples of the concept.
Dr. Jeanne Ross from MIT's Center for Information Systems Research (CISR) chose to focus on the digitization of organizational resources, stating that in her view, only "about 2% of global companies have nailed the concept of a digitized platform." She said here are two things IT does well: standardizing and integrating business processes. Organizations of all types will gain the most from their IT investments by focusing in these areas.
Professor Erik Brynjolfsson, author of the forthcoming Wired for Innovation: How Information Technology is Reshaping the Economy, sees opportunity in the downturn. As he noted, "the lion's share of Fortune 500 companies were founded in earlier economic disruptions." Brynjolfsson calls today's recession the "great restructuring." In that trend, he sees three key elements: Experimentation, measurement and scale
Each of these elements is substantially enabled by innovations in information technology, like A/B testing, Web and data analytics and cloud computing or enterprise resource planning systems. Brynjolfsson provided a bottom-line example of how such methodologies can result in increased profitability, noting that "Yahoo only makes 16% as much per page served as Google with the same underlying technology. Why? Scale."
Brynjolfsson suggested to the CIOs in the audience that they push for experiments, measure and validate them in order to rapidly adopt the innovation, replicate it and then scale it. "Experiments aren't an excuse to validate preconceived notions," Brynjolffsson was quick to note. "That's the wrong mentality. Leaders must approach experimenting with a genuinely open mind to see what works and what doesn't." Brynjolffson offered a CVS case study that he and Harvard Professor Andrew McAfee wrote in 2005 as an example. CVS created a pharmacy service improvement at one test location. Once the new process proved effective, CVS embedded the process into all of its IT system, replicating it to thousands of other locations.
Take his research with McAfee as another example. McAfee hypothesized that companies would become more similar over time as each organization enjoyed the benefits of improvements in information technology. What he and Brynjolfsson found was striking. When you compare leaders with laggards, over the past decade there has been a substantial growth in the gap. From the 1960s through the late 1990s, technology advancements benefited the nation's companies in roughly the same amount. Starting in the late 90s, however, there was a discernible shift to higher profitability in the top 25% of the nation's corporations, particularly in more IT-intensive areas of economy. Increasing performance heterogeneity was a result that appeared to be closely correlated with IT – if not IT itself.
In other words , the results implied that companies were using information technology in a new way after the dot-com bubble, with the top echelon leveraging investments in ways that dramatically accelerated their growth and profitability in the new millennium.
When asked what CIOs and CEOs could invest in now for returns on investment in recessionary times, Brynjolfsson focused on so-called "Enterprise 2.0" technologies. In his view, blogs, wikis and enterprise microblogging quickly allow innovations to be discovered and amplified across the companies.