News
Stay informed about the latest enterprise technology news and product updates.
With all of this innovating, isn't it time for some innovation accounting?
One of the premises of Eric Ries' lean startup methodology is something he calls "innovation accounting."
"In traditional management, if I make a plan, and I successfully execute it and I beat the plan, then I get promoted. If I come in below the plan, I get fired. That's the rule of general management," said Ries in a 2011 interview with The Washington Post. "But with entrepreneurs, we never make the plan. The plan is far too uncertain; our plans are completely bogus. We're making stuff up in the hopes of getting the resources. We're hoping for the best."

Download this free guide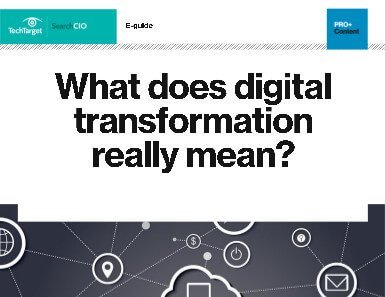 PDF: What does "digital transformation" really mean?
What exactly is digital transformation? You may hear the term often, but everyone seems to have a different definition. See how our experts define digitization, and how you can get started in this free guide.
Startups, sort of the "rebels" of the business world, are constantly pushing the envelope; sometimes they are incredibly successful (hello, Facebook), but more often than not, they fail to live up to expectations on deadline and on budget. Ries' argument is that standard accounting practices used by more established companies don't translate to this fuzzy world of innovation, and so startups need a framework that better fits their reality. Enter innovation accounting. "Innovation accounting is an accounting method for figuring out if the startup is making progress before we have enough gross numbers for traditional accounting to kick in," he said during that same interview.
Lean startup, in general, and innovation accounting, more specifically, is meant to remove the pitfalls and guesswork before all of the money runs out. The methodology does this by introducing a more scientific approach to product development (although some argue just how science-y lean startup actually is).
Core to the lean startup methodology is hypothesis and testing. By quickly building a prototype and getting it to market and into the hands of customers, the startup or business can begin collecting data/customer feedback. And here's where the innovation accounting, what Ries refers to as "the boring stuff," comes into play. That data provides early insight into how the market is responding to the prototype — what's working, what needs fixing and what might need chucking. That data is then used to drive the next iteration of the product through another build, measure and learn cycle.
The trick with innovation accounting is to measure the stuff that really matters. That means trading in "vanity metrics" for metrics that can drive the business forward, according to Ries. Vanity metrics aren't wrong, per se, but they don't provide insight into what might be the next best steps or what might need to be changed in order to meet customer interest or demand. Actionable metrics are more complex and provide an opportunity for comparison. Or, as Ries puts it in this post on actionable metrics, it's the difference between counting the number of hits to a website versus comparing how a new feature, rolled out to only 50% of users, impacts revenue.
"You have to be able to show quantitatively that a customer behavior that matters to the business case you're working on is being improved as you go from iteration to iteration," Ries said in a recent webinar. "If you don't get the accounting right, none of this other stuff matters."