News
Stay informed about the latest enterprise technology news and product updates.
Strategic innovations roadblocked by project management
It's a very special time of the year and no, it's not just Girl Scout cookie season. We just completed our annual poll on IT salary satisfaction. Being kind of a data junkie, I've dived into our readers' responses with gusto and have been delighted in reading them. You've been painting quite the compelling picture about your support of strategic innovations.
We asked how much time in a given month is being spent on strategic innovations such as business and IT integration, long-term planning, and IT product and services development. The majority of midmarket CIOs and senior IT executives reported spending only 10% to 25% of their time on those crucial activities. Only 20% of our midmarket respondents spend more than 50% of their time doing strategic planning.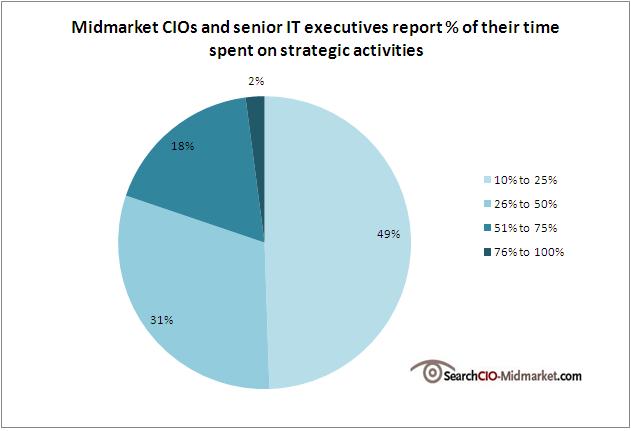 It begs the question: What exactly is filling your days? The biggest challenge for most CIOs is in becoming a trusted partner with the rest of the senior leadership team. This statistic seems to reflect that CIOs and senior IT executives are still struggling to build those relationships and set themselves as valued partners in steering the company toward profits.
What's the secret? One of our survey respondents, Chadd D. Carr, CIO at Advanced Concepts Research Group in Gainesville, Va., had an interesting take on the ideal strategic relationship. "Perhaps the most important is the support and commitment from leadership. Operating within a technology-aware organization allows me to forgo the usual hurdles relative to aligning IT spending with the organization's business objectives, and focus in on securing and enabling the IS needed to sustain strategic advantages."
So, what are CIOs and senior IT execs spending time on? Boring, guts-no-glory activities like project management. By far, our midmarket respondents spent more time managing projects in 2011 than they did in 2010. Budget crunches and shrinking IT staff caused senior IT leaders to roll up their sleeves and get their hands into the mix.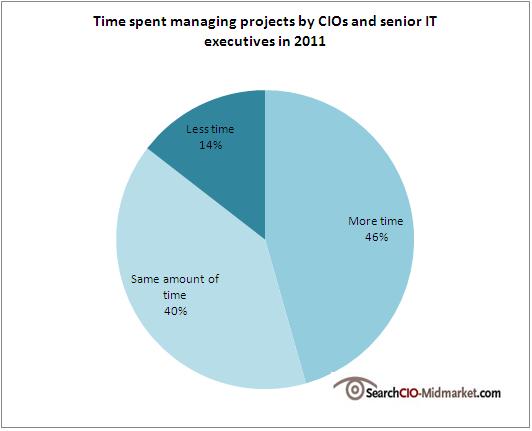 But this trend could have disastrous results for the IT talent pool. "I think many of the CIOs have been asked by their executive management teams to carry a disproportionate share of the burden in these lean times. In support of keeping their organizations afloat, many CIOs have been asking their staffs and themselves to do more with less and for less money. Most have done a fantastic job for an extended period of time. If they believe that when the economy picks up, their own organizations will not 'make them whole,' it seems highly likely they will move on to an organization that will provide better opportunities for personal and professional fulfillment," remarked Ken Desforges, director of information services for the city of Diamond Bar, Calif.
Desforges' predictions are supported by our CIO/IT Strategy Group poll on IT salary satisfaction. Many of our respondents reported being excited and driven by their role in strategic innovations, indicating that strategic innovations play a big part in their job satisfaction.
Over the next few weeks, we'll be sharing the data on SearchCIO-Midmarket.com and our sister site SearchCIO.com, and some of the findings will surprise you. Don't miss Editorial Director Scot Petersen's discussion about IT job satisfaction between midmarket senior IT executives and midlevel IT directors.