News
Stay informed about the latest enterprise technology news and product updates.
How does your annual salary increase measure up?
Now that you've locked in your carefully worded 2011 performance appraisal, for most companies, it's the best time of the year: the annual pay increase. Well, if you're lucky enough to get an annual pay increase, that is. We've all heard people bragging about getting raises in the double digits. It's a weird sort of humility to hear these stories, thinking back to your own annual salary increase and wondering if it's not unusually modest.
Last November we asked IT professionals some very personal questions about their job satisfaction, salary and compensation, and overall IT zeitgeist. From the compensation survey data, we've learned that overall, 2011 IT salaries remained flat or were slightly depressed compared to 2010, but that salary was only a small part of overall job satisfaction. Our courageous respondents were extremely honest about the state of their careers, including revealing what they received for their 2011 annual pay increase.
The majority (59%) of CIOs and senior IT executives in midmarket companies received an annual performance increase of 2.0% to 4.9%. Another 8% received an annual salary increase of less than 2%. When we looked at the compensation survey data from last year — specifically, the average salary for senior IT executives in the midmarket — there was a 2.9% overall increase compared to the average salary for senior IT executives who took the same survey in 2010. And this average salary increase is not solely a trend in midmarket companies: We looked at the raises reported by all respondents in every size of organization, and found that 63% of consultants, IT managers and CIOs alike received an annual salary increase of 2.0% to 4.9%. In fact, midmarket companies were slightly more generous — 14% of senior IT executives at midmarket companies received an annual salary increase of 10% or higher, compared to just 10% of all survey respondents.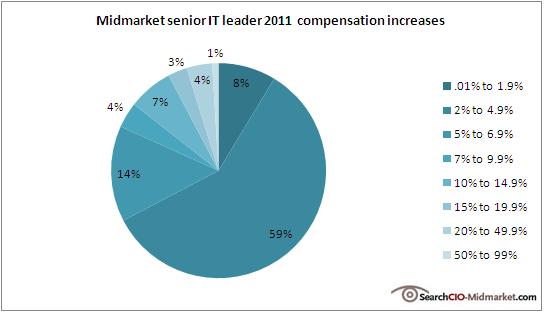 According to many CIOs we spoke with, salary doesn't matter as much as their feeling of accomplishment and the chance they have to play with shiny, new technologies. Hopefully the cold hard truth will help decrease the mental tickle when your friend over at Hot Tech Company X mentions his 33% annual salary increase.
The 2011 compensation survey data seems to suggest that it's not what you do that's important but how you do it. High earners in midmarket companies were less likely to spend their time managing IT projects and more likely to work building IT relationships with other parts of the business. It might be something to consider when formulating your 2012 salary goals.