News
Stay informed about the latest enterprise technology news and product updates.
CIO survey shows executives satisfied with their jobs -- for now
Most midmarket IT executives don't see themselves job hunting anytime in the near future. According to a CIO survey conducted this past November, 28% of senior IT executives said they're satisfied with their current jobs and companies and plan to stay in their positions for the foreseeable future. In addition, 42% of those surveyed replied that they're open to new job opportunities but aren't actively seeking new positions. Only 13% of midmarket senior IT executives reported that they're actively looking for new positions for 2012, according to the same CIO survey.
Despite a difficult job, a total of 70% of those surveyed reported that they aren't seeking new positions or jobs for 2012. A mere 2% said they're eyeing internal moves, and 15% reported that they're keeping their eyes open for when the economy picks up.
Looking further into the future, midmarket senior IT executives continue to be comfortable in the IT industry, even if they plan on leaving their companies. When asked about their plans for the next three to five years, only 8% said that they would like to move out of IT into a business role. Forty-two percent reported that they would like to move up higher in their overall organizations, and 6% said that they would like to move up higher in their IT organization. About half of the executives at midmarket companies had plans to leave their current companies — 6% said they would like to move to a smaller company, and the final 38% reported that they would prefer to move to a larger company.
So, what is it keeping midmarket senior IT executives so content at their current positions? Perhaps it's the fact that 62% of midmarket CIOs reported some form of salary satisfaction in the same poll, or that 61% of midmarket senior IT executives reported that CIO compensation is on the rise.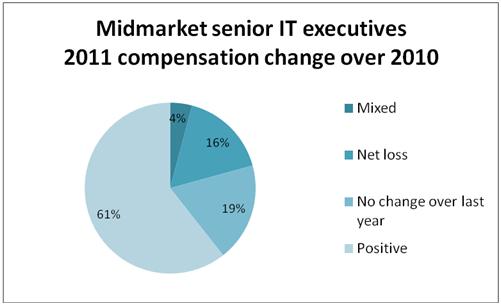 The fact that senior IT executives aren't searching elsewhere for jobs means that their organization is keeping them satisfied a number of ways — monetary and otherwise. As with all employees, job and salary satisfaction is critical if you want them to stay put, and as of now, it seems as though most midmarket senior IT executives are satisfied enough at their current jobs to continue through 2012.
Sarah Blanchette is a journalism student interning as an editorial assistant at TechTarget.