News
Stay informed about the latest enterprise technology news and product updates.
Birchbox delivers data-driven beauty to your doorstep
Data scientists know that rich, interactive visualizations can turn complex data sets into something employees (of all backgrounds) can dig in to and discover new insights and ask new questions of. But maybe it's time to deliver that same kind of "discovery" service into the hands of customers for other than data mining purposes.
Meet Katia Beauchamp and Hayley Barna, co-founders of Birchbox, a "discovery retail" cosmetics business launched in 2010. Customers who sign on to the Birchbox service receive a box every month containing four or five cosmetic, grooming or lifestyle samples. Customers get a chance to try something they've never bought before — without making a costly, up-front investment. If they like it, customers can return to the Birchbox site to buy a full-sized version, or go to any other retail outlet, for that matter, to make their purchase.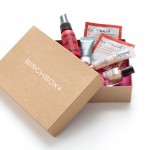 "The mission behind Birchbox is to make it easy, efficient and fun to buy beauty products online," Barna said at TechCrunch's Disrupt New York earlier this week.
What will come as no surprise to CIOs and IT leaders is the potent ingredient at the center of the Birchbox business model: Data. "We are data junkies!" Beauchamp recently exclaimed on Twitter. And when faced with a question at Disrupt New York about a Birchbox contingency plan if consumers scale back their cosmetic cravings, Beauchamp turned to data. "No need for a contingency plan," she said. "We continue to monitor how consumers are spending their time with us, how they're spending their money with us, and that informs what goes into the box. We will always be data driven."
The co-founders see the boxes as "the beginning of the conversation we have every month with our customers," Beauchamp said at Disrupt New York. And, based on data alone, it's a conversation that's getting louder and louder. To date, Birchbox has 800,000 paid subscribers who receive a box every month, according to Barna. And, starting this summer, customers in the New York City area will be able to visit the first Birchbox brick-and-mortar store, where data will play a big role in helping Barna and Beauchamp measure the store's success.
"For us, we're thinking about it as a laboratory," Barna said.
"We're going to see the numbers and how it will impact our online business, customer acquisition, the lifetime value of businesses who engages with us in that space," Beauchamp said.
Those kind of data points are, no doubt, helping attract investor interest. Last month, Birchbox raised $60 million in a Series B funding round from firms such as Viking Global Investors and First Round Capital.
The funds will be used to grow the discovery retail business, Beauchamp said at Disrupt New York. That could, in part, help finance future acquisitions — specifically those that will push Birchbox into new markets. In 2012, Beauchamp and Barna picked up the Paris-based JolieBox, which paved the way for Birchbox to sell services and products in France, Spain and the United Kingdom. While the acquisition made good business sense, it also benefitted the Birchbox customer base.
"Through our expansion to Europe, we were able to bring European brands to the United States for the first time," Barna said. "It's been great for our customers."
She probably has data to back up a statement like that one.