Evaluate
Weigh the pros and cons of technologies, products and projects you are considering.
Web 2.0 technologies for CIOs
Web 2.0 technologies, including blogs, mashups and Ajax, are changing the way people communicate online and could have profound implications forcollaboration within the enterprise. Gathered here are our best articles and advice on how CIOs can get the most from the Web 2.0 revolution.
Web 2.0 and enterprise social media technologies such as Facebook are changing the way people communicate online and could have profound implications for collaboration within the enterprise. Gathered here are our best articles and advice on how CIOs can get the most from the Web 2.0 revolution and which enterprise social media policies they should enact to ensure they're following compliance regulations.

Download this free guide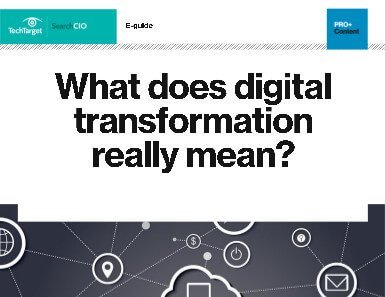 PDF: What does "digital transformation" really mean?
What exactly is digital transformation? You may hear the term often, but everyone seems to have a different definition. See how our experts define digitization, and how you can get started in this free guide.
By submitting your personal information, you agree that TechTarget and its partners may contact you regarding relevant content, products and special offers.
You also agree that your personal information may be transferred and processed in the United States, and that you have read and agree to the Terms of Use and the Privacy Policy.
This guide is part of the SearchCIO.com CIO Briefing series, which is designed to give IT leaders strategic guidance and advice that addresses the management and decision-making aspects of timely topics. For a complete list of topics covered to date visit the CIO Briefing section.
Developing corporate social media policies is an ongoing experiment akin to the struggle enterprises endured when the Internet and email were introduced as business tools. Enterprises should not assume, however, that the policies they developed over many years for Internet and email use are a perfect fit for social media.
"Companies are making a mistake when they say social media is the same as email and chat," said Julie E. LeMoine, a collaboration expert who recently codeveloped a large financial services firm's social media policies. "There's enough that is different about social media that you need to be blunt and state the [rules of behavior] again, even if they're the same words [used for older e-communications polices] -- which I doubt they will be."
For starters, e-discovery polices will change, given the free-for-all nature of social networking, according to Stew Sutton, principal scientist for knowledge management at The Aerospace Corp., a federally funded research and development center in El Segundo, Calif. His organization has no limits on email retention, but with "social conversations, wikis, blogs and tweet streams, the mass of data sitting out there becomes a problem," he said. The issues can make e-discovery "extremely costly."
Learn more in in "Cost and content of social media policies vary widely by industry." Also:
With its bulging portfolio of iconic brands, Kraft Foods Inc. understands how to sell people something they didn't know they wanted. Recently the world's second-largest food company, based in Northfield, Ill., brought its advertising prowess to bear on a demographic close to home -- its 125,000 employees. In its effort to operate as a digital enterprise, the company wanted its people to be more collaborative, social, flexible, networked, mobile and, yes, productive. It also wanted to help pay for this new way of working in savings on real estate and other hard costs.
"The business value statement was to transform the way Kraft Foods works by increasing the speed of innovation and reducing costs," said Roberta Cadieux, director for information systems service delivery.
So, channeling Kraft Foods' marketing know-how, the company gave the effort a name and a tag line. "Digital Life is the name of the program," Cadieux said. Transforming the way Kraft Foods works is the slogan. The logo is a yellow umbrella; underneath it are a dozen tech-enabled "game-changing capabilities" available to Kraft employees, from virtual desktops to softphones. "Hokey as it is," she said (referring to the yellow umbrella), the branding showed employees the breadth of projects IT was spearheading to help change the way they worked.
Learn more in "How Kraft is transforming the meaning of work in a digital enterprise." Also:
As CIO of the U.S. Environmental Protection Agency, Malcolm Jackson wears many hats. In addition, he's the assistant administrator at the EPA's Office of Environmental Information, managing systems that hold all environmental data for the country. He is in charge of systems that have literally millions of users. "We support American citizens as a whole, so enriching [the] user experience includes internal [EPA] and external [public] users."
In that regard, the responsibilities Jackson has over EPA IT systems are different from those CIOs in the private sector have. But the challenges and principles of technology innovation are the same, Jackson says.
Learn more in "EPA CIO looks to collaboration software for technology innovation." Also:
Dig Deeper on Leadership and strategic planning