Evaluate
Weigh the pros and cons of technologies, products and projects you are considering.
Virtualization and the private cloud: A guide for enterprise CIOs
This guide looks at the trends, best practices and critical criteria for building a true strategy around virtualization and the private cloud.
Virtualization continues to receive attention in enterprise organizations wanting to reduce IT costs and create a more flexible, efficient and automated applications workload environment. But once you've virtualized your server room, what's next? Some organizations are looking at a private cloud (also called an internal cloud or corporate cloud), an enterprise computing architecture that's protected by a firewall.

Download this free guide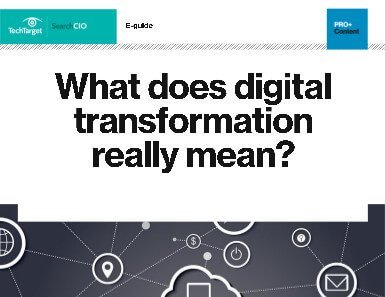 PDF: What does "digital transformation" really mean?
What exactly is digital transformation? You may hear the term often, but everyone seems to have a different definition. See how our experts define digitization, and how you can get started in this free guide.
By submitting your personal information, you agree that TechTarget and its partners may contact you regarding relevant content, products and special offers.
You also agree that your personal information may be transferred and processed in the United States, and that you have read and agree to the Terms of Use and the Privacy Policy.
The goal of the private cloud model is to allow an administrator to manage his technology infrastructure from a single point and assign resources as needed. Owning and managing a private infrastructure may be less cost-effective for a business, but it increases the organization's ability to manage and protect data. This is especially important for businesses that have strict compliance regulations. This guide looks at the trends, best practices and criteria for building a true strategy around virtualization and the private cloud.
This guide is part of SearchCIO.com's CIO Briefing series, which is designed to give IT leaders strategic guidance and advice that addresses the management and decision-making aspects of timely topics. For a complete list of topics covered to date, visit the CIO Briefing section.
How do I get started with virtualization?
Virtualization has profoundly changed the IT industry, and the technology will continue to have an impact as it matures and evolves. This e-book, Introduction to Virtualization, covers the basics of the technology for IT professionals who want to reap the benefits of virtualization in their data centers. In addition to the basics of virtualization technology, the e-book covers disaster recovery (DR), server consolidation, testing and development, high availability, storage, security, and the three key virtualization platforms: Microsoft Hyper-V, Citrix XenServer and VMware ESX.
Learn more in "Introduction to virtualization e-book." Also:
What is a private cloud, and who is using it?
A private, or internal, cloud is a means of centralizing data center resources and delivering them on the fly as business demands change and IT attempts to become a service delivery unit to the company. With server virtualization as its basis, cloud technology has a way to go, but CIOs are finding it a powerful vision.
Learn more in "Beyond server virtualization: The private cloud." Also:
How do you manage the implementation and costs of a private cloud?
There are no shortcuts or magic formulas to proper deployment and management of a private cloud. Any private cloud project must begin with a strong foundation and a realistic appraisal of the current environment -- particularly server virtualization -- and weigh that against the company's future needs for intracloud services and quality of service.
Learn more in "Tips for integrating server virtualization in a private cloud." Also:
How does cloud computing work in the data center?
As hosting and service providers seek out the most efficient and powerful infrastructures for their "cloud" support capabilities, high utilization and lowest total costs become imperative. Amazon.com, Google Inc., Yahoo Inc., IBM, Hewlett-Packard, EMC Corp., Sun Microsystems Inc. and Microsoft are all building huge cloud compute capabilities. Large enterprises and governments that also seek high performance and lowest costs will and should seek to emulate these providers and create "private cloud" data centers where it makes sense.
Learn more in "Private cloud datacenters." Also:
What security issues should be addressed when using cloud computing?
All the risks to sensitive corporate data associated with outsourcing apply to cloud computing, and then some. Enforcing security policy and meeting compliance requirements are tough enough when you deal with third parties and their known or unknown subcontractors, especially on a global scale. Add the blurry characteristics of the cloud and the entry of nontraditional vendors into the technology market, and some red flags go up.
Learn more in "How to secure cloud computing." Also:
Dig Deeper on Enterprise systems management