Evaluate
Weigh the pros and cons of technologies, products and projects you are considering.
Server and storage virtualization for CIOs
Virtualization can be a confusing topic, even for the most seasoned CIOs. Check out these resources on server, storage, network and backup virtualization.
Virtualization can be a confusing topic, even for the most seasoned CIOs. Check out these resources on server, storage, network and application virtualization.

Download this free guide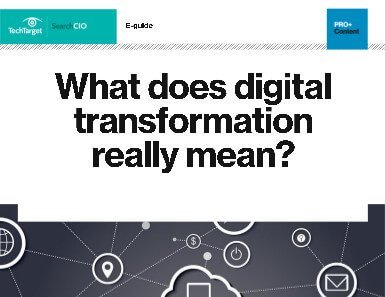 PDF: What does "digital transformation" really mean?
What exactly is digital transformation? You may hear the term often, but everyone seems to have a different definition. See how our experts define digitization, and how you can get started in this free guide.
By submitting your personal information, you agree that TechTarget and its partners may contact you regarding relevant content, products and special offers.
You also agree that your personal information may be transferred and processed in the United States, and that you have read and agree to the Terms of Use and the Privacy Policy.
This guide is part of the SearchCIO.com CIO Briefings series, which is designed to give IT leaders strategic guidance and advice that addresses the management and decision-making aspects of timely topics. For a complete list of topics covered to date, visit the CIO Briefings section.
CIOs are turning to server virtualization in large numbers, but many can't say whether their virtualization deployments are successful.
Forty-four percent of companies that have deployed server virtualization are unsure whether their deployments have been successful, according to a survey published by CA Inc., the Islandia, N.Y.-based IT vendor.
CA's research was conducted by The Strategic Counsel, a Toronto-based independent research firm, which surveyed 800 organizations around the world.
The survey revealed that 71% of organizations that have transitioned to virtualization have deployed or plan to deploy multiple server virtualization technologies.
Indeed, the rapid adoption of server virtualization has led to heterogeneous environments that are proving difficult to manage and nearly impossible to assess. CIOs don't have a clear view into how their virtualization efforts are working. In fact, 28% of organizations polled in the survey that said they deployed virtualization have either failed to, or are unsure if, they realized an ROI. And 40% said they have either failed to achieve expected cost savings or they simply couldn't tell.
Learn more in "Complex server virtualization setups thwart ROI." Also:
It's not your daddy's virtualization anymore. That was the message at last week's Virtualization Forum 2.0 in New York. In the space of just two years, virtualization has morphed from a tactical technology deployed mainly to consolidate infrastructure to a tool that increasingly is used to test and run mission-critical applications.
"It is extremely eye-opening to see how quickly this technology has progressed and how deeply it has penetrated the organization," said John Humphreys, program director for enterprise platforms at Framingham, Mass.-based research firm IDC, which hosted the one-day conference.
A survey conducted by IDC in December shows that more than 50% of all the virtual machines at roughly 500 organizations in North America are running production-level applications. Survey respondents said that nearly half of all the servers in their organizations will be virtualized by the end of 2007. Moreover, most new applications deployed going forward will run on virtualized servers, respondents said. Those that don't will be required to make "a strong business or technical case" for getting a dedicated physical device.
Find out more in "Virtualization ROI not just about hardware." Also:

Storage virtualization functionality, including aggregation (pooling), transparent data migration, heterogeneous replication and device emulation, can be implemented at the host server in the data path on a network switch blade or on an appliance, as well as in a storage system. The best location to implement storage virtualization functionality depends in part on your preferences, existing technologies and objectives for deploying storage virtualization.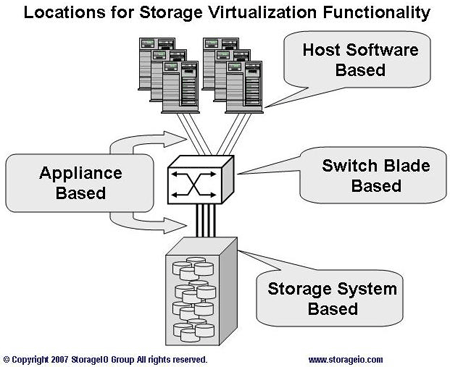 You may find that some applications and their storage requirements are best suited for a combination of technologies to address specific needs and requirements. This can include some applications using in-band storage virtualization appliances or storage system based storage virtualization while others use split-path fast-path control path network-based functionality.
Learn more in "Storage virtualization: Where and how." Also:
Traditionally, network and system management staffs administered their separate domains using tools focused specifically on those domains. Now, server and storage virtualization has blurred the boundaries and requires staffs to join together and utilize new tools to maintain an increasingly complex processing environment.
Server virtualization erases the boundaries between servers to create a single, virtual application processing resource, while storage virtualization creates what appears to be a single storage device from multiple physical devices. By doing so, network links are effectively transformed into internal links within what must be viewed as a single, very large application processing system consisting of processors and storage devices spread across a network.
In the past, system management and network management were separate disciplines. System management provided a view of the applications executing within a single system and its attached storage devices. Resources such as CPU priority, memory utilization and disk space were managed within the confines of that system.
Find out more in "Server and storage virtualization end network management isolation." Also:

When a series of electrical snafus took down the Las Vegas Valley Water District's (LVVWD) data center, its network administrators were vindicated. Yes, server virtualization really is a good idea.
Senior network administrators Dave Trupkin and Greg Hearn told attendees at Gartner's Data Center Conference that they had begun converting a select number of the utility's 200 servers to virtualized servers in the years prior to the power failure to combat server sprawl.
Trupkin had virtualized some infrastructure servers, installed two VMWare ESX host servers and introduced VMotion, which allowed him to move virtual servers from box to box with almost no downtime.
As virtualization improved performance, Trupkin thought the results would increase acceptance of the technology in his organization. But the utility's developers were slow to do so. Every problem the developers had was now a virtualization problem, whereas before it would have been an application problem, Trupkin said.
Learn more in "Power outage brightens Las Vegas utility's outlook on virtualization." Also:
Dig Deeper on Enterprise data storage management