Evaluate
Weigh the pros and cons of technologies, products and projects you are considering.
SaaS, SOA and packaged apps: Optimizing your software investments
CIOs are optimizing their software investments in SaaS, SOA and packaged applications to be more cost effective, functional and customizable.
In an effort to formulate a successful software strategy, many IT organizations are optimizing their software investments in SaaS, SOA and packaged applications. CIOs have a number of options when it comes time to consolidate, upgrade or add new applications. The range of hosting service options includes on-demand software subscriptions, mashups and traditional on-premise licenses of package software.

Download this free guide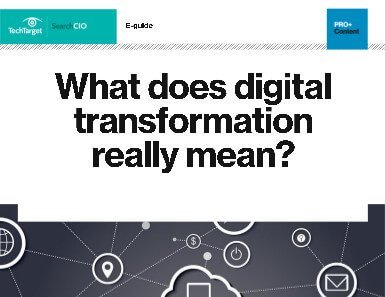 PDF: What does "digital transformation" really mean?
What exactly is digital transformation? You may hear the term often, but everyone seems to have a different definition. See how our experts define digitization, and how you can get started in this free guide.
This CIO Briefing explores the true costs, benefits and challenges of the various approaches to help IT decision makers formulate a software strategy. It also addresses how enterprise IT organizations can make cost-effective decisions about new and existing investments in SaaS, SOA and packaged applications.
This guide is part of SearchCIO.com's CIO Briefing series, which is designed to give IT leaders strategic guidance and advice that addresses the management and decision-making aspects of timely topics. For a complete list of topics covered to date, visit the CIO Briefing section.
Now that the Software as a Service (SaaS) delivery model has proved itself at the departmental level, some CIOs are ready to go with SaaS for some more complex enterprise applications. And vendors are there to meet them, with services such as integration with legacy systems, custom development and even business process improvement.
As applications like enterprise resource planning (ERP) become available via SaaS, customers' complex business rules often require customization from the standard SaaS offering, said Liz Herbert, an analyst at Forrester Research Inc. in Cambridge, Mass.
Learn more in "As SaaS model matures, complexity grows, but SaaS benefits hang tough." Also:
SaaS contract negotiations are taking on new dimensions as vendors introduce utility-like pricing options and try to lock customers into longer contracts. And by building in support for more customizable applications and creating ecosystems of technology partners for related applications, they are also making it more difficult to switch from one provider to another.
"A lot of SaaS offerings were pretty basic and you had an easier time switching from one to another [until recently]," Forrester's Herbert said. "Vendors are now trying to make it more difficult to switch by making their applications much more customizable." They are also trying to tempt customers into signing longer contracts, in some cases up to five years, by offering steep volume licensing discounts, she said.
Read more from "In SaaS contract negotiations, focus on customization, future pricing." Also:
If you're still thinking about SaaS applications as isolated business processes -- an exotic getaway for a select few of your business users -- it's time to make an attitude adjustment.
Large-enterprise deployments of SaaS will not only touch internal business processes at multiple points in a few short years, according to Gartner Inc., but they will also be deeply intertwined with business process management systems (BPMS) in ways you might not expect.
Learn more in "Business process management newest SaaS deliverable." Also:
There are reasons aplenty to stick your head into cloud computing, says Forrester analyst James Staten. IT can't keep up with the demands of the business. The best Web services companies have maxed out their data centers for efficiency, and those babies can handle almost anything you throw at them. You pay by the drink. You are free of long-term contracts. Most cloud vendors let you come and go as you please, Staten said. And all you need to do is log in.
But that doesn't mean cloud computing is enterprise-ready. For your entertainment: 12 reasons, courtesy of Staten and his team, why cloud computing is -- or isn't -- coming to an enterprise near you.
Find out more in "Cloud computing: 12 reasons to love it or leave it." Also:
Dig Deeper on Cloud computing for business