Evaluate
Weigh the pros and cons of technologies, products and projects you are considering.
PPM and IT governance in a recession: A guide for enterprise CIOs
Project and portfolio management (PPM) and IT governance are increasingly important in this economic recession as CIOs prioritize projects and assess ROI. Learn more in this guide.
Project and portfolio management (PPM) is taking on increased importance in this economic recession as organizations focus on corporate initiatives and ensure that executives direct their spending and use of resources toward those goals. PPM creates visibility into available resources and assets to help IT executives and their governance boards determine which projects are most essential, follow timelines and assess ROI.

Download this free guide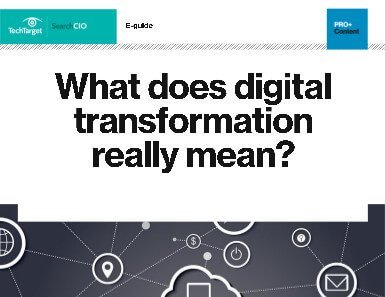 PDF: What does "digital transformation" really mean?
What exactly is digital transformation? You may hear the term often, but everyone seems to have a different definition. See how our experts define digitization, and how you can get started in this free guide.
By submitting your personal information, you agree that TechTarget and its partners may contact you regarding relevant content, products and special offers.
You also agree that your personal information may be transferred and processed in the United States, and that you have read and agree to the Terms of Use and the Privacy Policy.
This CIO Briefing examines PPM and IT governance strategies at large organizations. It discusses the importance of PPM and best practices for PPM software selection, IT governance strategies and project management offices (PMOs)
Best practices for PPM software selection
Project portfolio management software is aimed at improving project management efficiency by cataloging all the projects in the IT queue and generating automated conclusions based on input information (spending, time frame, employee resources needed, etc.) to prioritize and organize projects on the table.
Phil Bertolini, CIO of Oakland County, Mich., said these conclusions then help in managing IT budget cuts and carry weight in budget discussions with business users.
"I have more leverage to get what I ask for, because we can prove where the budget is being spent and provide a status update every quarter," he said.
Learn more in "Project portfolio management software helps CIOs cope with budget cuts." Also:
Benefits of using PPM apps for project prioritization
Some 38% of IT shops at companies with more than 1,000 employees use PPM software, according to new SearchCIO.com research on project and portfolio management and IT governance. The top reasons why? Financial analysis and resource and project management, according to the survey of 276 large-enterprise IT executives.
Nearly half the survey respondents cited those two reasons as being very important in their decision to deploy the software, compared with a third or less for other criteria. Similarly, of 11 possible features, the most respondents (60%) cited project and resource management features as the most important in system selection, followed by financial management (41%) and portfolio management (30%).
Find out more in "How PPM software usage changes as firms grasp IT portfolio management." Also:
The role of IT governance in PPM
Most large enterprises have some form of IT project management governance, according to a recent survey, but nearly seven in 10 survey respondents were dissatisfied with how involved those governing bodies were with project and portfolio management decisions.
Indeed, 46% of respondents to the SearchCIO.com PPM and IT governance survey, conducted in May with 304 respondents, wish their PPM governing body was more involved. And a surprising percentage (22%) wish it were actually less involved.
Where's the balance for effective project management governance? Experts suggest that it depends on the size, maturity and complexity of projects within the organization.
Learn more in "Project management governance: How much is enough?." Also:
The importance of a PMO in prioritizing projects
Project management offices are becoming more critical during the recession, as they offer important IT governance in making sure all IT projects are aligned with corporate goals while also cutting out waste.
Though often created during booming economic times to focus resources and priorities on the most strategic projects, PMOs are no luxury in tight economic times, interviews with CIOs indicate. Today, project management offices are uniquely positioned to cut projects that have spiraled out of control and identify those critical to meeting changing business needs and increasing business efficiency. They have even staved off IT layoffs.
Find out more in "Project management offices grow more essential during recession." Also:
How to implement PPM without PPM software
Organizations do not necessarily need IT portfolio management software to enact a portfolio management strategy, and many instead rely on a mixture of other software programs. But in either case, they must have a strong IT portfolio strategy or set of processes to guide project planning, prioritization, purchasing and resource allocation, experts and practitioners agree.
The methodical approach achieved by IT portfolio management is especially important in this economic recession, when some businesses, such as large American automakers, are dropping lines of business entirely, said Mike Rollings, a senior analyst at Burton Group Inc., a Midvale, Utah-based consultancy.
"You can either do that arbitrarily, or do it with intelligent viewpoint of what value is," Rollings said. "Portfolio management gives you a way of seeing what things are valuable to the organization, and being able to assess them in a methodical, less subjective way."
Learn more in "IT portfolio management: Strategy matters more than software, CIOs say." Also:
Dig Deeper on IT project management and portfolio management