Evaluate
Weigh the pros and cons of technologies, products and projects you are considering.
Guide to building and managing a business process management strategy
Find out what it takes to implement a business process management strategy in your midmarket organization -- from BPM basics to business process tool selection.
Business process management (BPM) incorporates business process analysis, automation, optimization, modeling, workflow and other process-related strategic techniques. Sound like a lot? It can be -- but knowledge, preparation and understanding can help you shed some light on the evolving technologies.

Download this free guide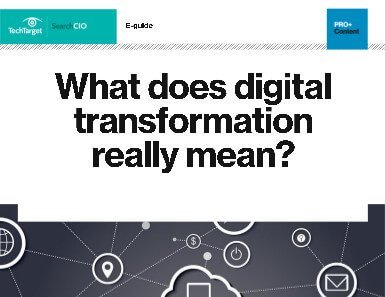 PDF: What does "digital transformation" really mean?
What exactly is digital transformation? You may hear the term often, but everyone seems to have a different definition. See how our experts define digitization, and how you can get started in this free guide.
Our extensive coverage of BPM tools and strategies aims to provide some guidance for midmarket CIOs -- whether they are just starting out or looking to mature their own strategies -- and lessen some of the business process confusion.
For free advice and resources on more IT and business topics, visit our list of Midmarket CIO Briefings.
Business process management basics
BPM is used by organizations to improve end-to-end business processes. It can span five stages: design, modeling, execution, monitoring and optimization. Typically, it begins by defining the steps it takes to get something done, improving on those that add value and consolidating or automating others, then tweaking electronic workflows to match the process maps. This streamlining can be accomplished through system integration using middleware, a service-oriented architecture (SOA) or software packages that assist with process mapping and then connecting the back-end systems involved in a process.
Learn more about BPM in "FAQ: Business process management defined." Also:
Poking holes -- and fun -- in business process management
Enough ridiculous sales pitches! In his column, CIO Niel Nickolaisen has a little fun exposing the truth behind what BPM can and cannot do.
BPM Tutorial
Get a quick rundown of business process management in this guide, which offers definitions, tips, news and other resources to help you get started with or optimize your use of BPM.
Developing an effective business process management strategy
If you ever thought BPM was too complex and time consuming to prove successful in your midmarket business, think again. Even with a smaller pool of internal resources, a midmarket IT organization can develop a business process management strategy that will help the business streamline processes and become more efficient, just as its larger competitors are.
Due to their size and nature, midmarket organizations may actually be better positioned for process management success than larger enterprises, said Dennis Drogseth, vice president of Enterprise Management Associates Inc., a Boulder, Colo.-based IT management research firm. "The smaller the organization, the more favorable the environment for achieving big changes," he said.
Some of the steps to getting a business process management strategy off the ground are:
Identify a business/IT team that has historically worked well together.
Have them brainstorm a cross-functional process that needs improvement.
Conservatively estimate the potential savings of the improvement, and use this estimate to support acquisition of a BPM tool.
To learn more about business process management strategy development, continue reading "7 steps to launching a workable business process management strategy." Also:
Selecting a BPM tool
BPM has seen increased interest during the past year as organizations look to automate and streamline business processes to wring out cost and become more efficient. So for those that are evaluating business process management solutions vendors and tools to map processes and integrate electronic workflows, we have compiled a list of questions to ask up front to ensure a good technology fit.
But first, a word about how to approach BPM: Organizations should gear their BPM initiatives to fit a purpose -- be it continuous process improvement, competitive advantage or business transformation, according to Clay Richardson, a senior analyst at Forrester Research Inc. in Cambridge, Mass.
For those that haven't yet taken this step, some cloud-based collaboration tools can help with strategic mapping and planning, he said, through a combination of collaboration and business process discovery. These capabilities help to identify workflow bottlenecks and other types of inefficient processes that BPM can then help you resolve. Tools for this purpose include Lombardi Blueprint and IBM's BPM BlueWorks.
"If you need help building the business case for BPM or if you have no idea where you want to go, these can be good starting points," Richardson said.
Learn more about what to ask your prospective vendors in "Evaluating a business process management solutions vendor: What to ask. Also:
The relationship between BPM and SOA
With every new software architecture, implementation horror stories seem to abound until people learn the finer points through trial and error. SOA is no exception -- take the case of a bank that created about 900 individual services only to find that a third of them were duplicative because no one was paying attention to who was creating what business services in each of the bank's divisions. So much for code reuse, SOA's oft-touted main benefit.
Reusability may be hyped as a big reason for turning to a SOA implementation, but as the bank found out, realizing reuse requires both architectural sophistication and working governance, which can be hard to achieve at first. BPM and application integration projects are where midmarket organizations gain the most value.
Learn more about SOA and BPM in "First SOA implementations should focus on business value. Also:
Examples of successful uses of business process management technology
Like many midmarket organizations, the oldest medical school in the Southeast, the Medical University of South Carolina (MUSC), runs some key programs on legacy systems. Yet the challenges of legacy system integration left the school running its grants program on such disparate, disconnected systems that the school used couriers to deliver data from one system to another. Moreover, manual data entry then resulted in an error rate of more than 80% on the 20,000 document changes requested each year.
What to do?
Systems integration via middleware? Implement a modern ERP system? Go the BPM/workflow automation route?
Learn how MUSC was able to extend the life of its legacy systems, skip a costly and time-consuming ERP implementation and save time and money with business process management in "IT shop fixes legacy system integration problem with BPM package." Also:
Ways to leverage other management methods with BPM
The business relies on IT to play an integral role in any kind of change. If there's an organizational change taking place, it's the CIO's role to make sure the technology strategy and operations in IT align with the change and support the organizational change management strategy. If the change involves IT infrastructure or other IT change management efforts, "the CIO should be running the show," said James Champy, author and chairman of Perot Systems Corp.
Get the answers to some frequently asked change management questions, including:
How are organizational change management and IT change management different?
Where does ITIL change management fit in?
What are some examples of change management models?
Read the full change management FAQ for more information. Also:
Dig Deeper on Small-business infrastructure and operations