Evaluate
Weigh the pros and cons of technologies, products and projects you are considering.
E-discovery and litigation guide for CIOs
E-discovery and litigation concerns are serious responsibilities for IT staffs. Learn how to tackle them with this CIO Briefing.
Electronic discovery -- commonly referred to as e-discovery -- can add even more burdens to an already overworked IT staff, given the need to locate and secure specific information that may be used as evidence in a civil or criminal legal case. How does a CIO tackle e-discovery and litigation-related tasks in a cost-efficient manner while following the letter of the law? And what other potential litigation landmines are there for IT leaders? Learn what IT professionals need to watch out for to stay on the right side of the law with this CIO Briefing.

Download this free guide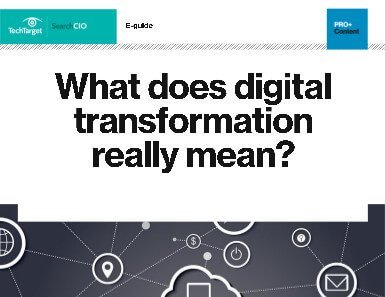 PDF: What does "digital transformation" really mean?
What exactly is digital transformation? You may hear the term often, but everyone seems to have a different definition. See how our experts define digitization, and how you can get started in this free guide.
This guide is part of SearchCIO.com's CIO Briefings series, which is designed to give IT leaders strategic management and decision-making advice on timely topics.
Developing corporate social media policies is an ongoing experiment akin to the struggle enterprises endured when the Internet and email were introduced as business tools. Enterprises should not assume, however, that the policies they developed over many years for Internet and email use are a perfect fit for social media.
"Companies are making a mistake when they say social media is the same as email and chat," said Julie E. LeMoine, a collaboration expert who recently codeveloped a large financial services firm's social media policies. "There's enough that is different about social media that you need to be blunt and state the [rules of behavior] again, even if they're the same words [used for older e-communications polices] -- which I doubt they will be."
For starters, e-discovery polices will change, given the free-for-all nature of social networking, according to Stew Sutton, principal scientist for knowledge management at The Aerospace Corp., a federally funded research and development center in El Segundo, Calif. His organization has no limits on email retention, but with "social conversations, wikis, blogs and tweet streams, the mass of data sitting out there becomes a problem," he said. The issues can make e-discovery "extremely costly."
Find out more in "Cost and content of social media policies vary widely by industry." Also:
Since the IBM "Watson" computer's strong showing as a "Jeopardy" contestant, several news articles and experts have touted its technology as the latest example of artificial intelligence's potential to make some jobs easier.
One expert who sees the potential in Watson's artificial intelligence -- especially in the legal field -- is Howard Reissner. An active member of the New York State Bar Association and a former practicing lawyer, Reissner has experience in providing technology and e-discovery services and solutions to the legal industry. Reissner co-founded Planet Data in 2001 and is involved in strategic planning, development and implementation of technology at the Elmsford, N.Y.-based global data management services provider, which is retained by a number of Fortune 500 companies and law firms.
SearchCompliance.com caught up with Reissner to get his thoughts on the evolution of e-discovery technology and how it can help companies make their records management systems more efficient.
Learn more in "Compliance Q&A: How e-discovery technology enhances business processes." Also:
Does your cloud strategy take into account the fact that your company may be sued or may need to initiate litigation against a third party, and may have to comply with rules regarding the protection and provision of evidence?
Unique rules apply to documents and records when a dispute arises and there is a threat of litigation, or a complaint has been filed and served. This complex process involves many aspects, including, for example:
Preservation of evidence (so evidence necessary for trial is not destroyed);
Identification of evidence that is relevant to the case;
And delivery of this material to the other party in a form and format that is useable.
When this evidence is in electronic form, the plaintiff (or potential plaintiff) and the defendant (or potential defendant) must follow stringent rules imposed by the e-discovery provisions of the Federal Rules of Civil Procedure and state laws.
When these electronic documents have been stored with a cloud service provider, additional complexity arises because the data owner no longer has full control over its documents. It must find a way to make the cloud service provider cooperate on e-discovery cloud issues. This article examines some key considerations in preparing for a discovery request in the cloud.
Find out more in "E-Discovery Cloud Considerations." Also:
E-discovery, or electronic discovery, is a tough job, but managed service providers (MSPs) in the legal vertical want to do it.
But, e-discovery -- which refers to the process of seeking, locating, securing and searching boatloads of information ranging from email to Word documents to instant messaging chats and social media postings for potential use in civil and criminal litigation -- also inspires a certain amount of dread.
The explosion of electronic documentation in recent years has made e-discovery an increasingly arduous task for law firms and corporate legal departments. And a hugely expensive one. In past years, those organizations would often outsource e-discovery to service bureaus charging as much as $3,000 per gigabyte of data.
Learn more in "Managed services meets e-discovery." Also:
Dig Deeper on Risk and compliance strategies and best practices