Evaluate
Weigh the pros and cons of technologies, products and projects you are considering.
CIO resources: Top five technology topics of 2009
What technology topics were top of mind this year? Our top five 2009 CIO resources cover a range of IT leadership topics important to CIO strategy planning this year.
IT leadership requires not only exhibiting qualities of a good leader, but also having the tools and information you need to get the job the done. CIO resources including real-world advice, news, tips and current trends can be critical to making smart business decisions and technology purchases.

Download this free guide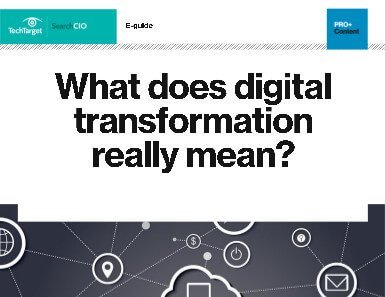 PDF: What does "digital transformation" really mean?
What exactly is digital transformation? You may hear the term often, but everyone seems to have a different definition. See how our experts define digitization, and how you can get started in this free guide.
By submitting your personal information, you agree that TechTarget and its partners may contact you regarding relevant content, products and special offers.
You also agree that your personal information may be transferred and processed in the United States, and that you have read and agree to the Terms of Use and the Privacy Policy.
Throughout 2009, our midmarket CIO briefings have covered strategic IT topics to keep our readers abreast of the important IT initiatives and developments during these recessionary times. Here, we pull together the top five IT topics of 2009 based on reader interest and feedback. Take a look at what we've found:
---
Project and portfolio management
---
Project and portfolio management has been a big topic across IT this year, as more and more organizations realize the value a well-organized project management team and IT portfolio can bring to the organization. Project management software can add a level of transparency that is often difficult to obtain with Excel spreadsheets. Project managers displaying the qualities of a good leader can lead to more successful projects. Organizations with developed IT governance models and mature PPM strategies may be better positioned to tackle unplanned changes in the organization or the economy. Overall, a solid project management plan can encourage success and growth.
Learn more about project and portfolio management -- from basic tips to continued strategy -- in "Project and portfolio management for the midmarket." Some of what's included:
---
Web 2.0 applications
---
Web 2.0 applications are emerging within organizations as effective internal and external means of communication. Internally, these tools and applications can increase employee collaboration and innovation by opening the lines of communication and encouraging engagement among stakeholders. Externally, online communities and messaging services improve customer experience and satisfaction by providing more information in a more accessible way. But of course, this heightened level of communication also raises security and compliance concerns.
Don't worry -- we cover it all in our briefing, "Web 2.0 applications: Innovative technology to optimize your business," including understanding the business value of Web 2.0 applications and lessons learned from CIOs who have been there.
---
IT Service Management
---
IT Service Management (ITSM) is a key part of a successful IT shop. By aligning IT services with the needs of the company, ITSM promotes efficiency and customer satisfaction. Best practices such as Six Sigma, IT Infrastructure Library (ITIL) frameworks and even agile methodologies are part of the overall infrastructure important for a smooth-running IT department. In "IT Service Management: Best practices for improving IT efficiency," we cover what a midmarket organization needs to know about ITSM, including:
---
Virtualization 2.0
---
While many organizations have tested the waters of server virtualization, a much smaller percentage of these same organizations know where to go next. Budgeting and licensing options for virtualization technologies, knowing what to virtualize and what to hold off on and keeping your decisions both strategic and tactical on these matters can be daunting. That's why we put together "Virtualization technology 2.0: Current and future trends for IT" to help you build a better virtualization roadmap. Some important topics covered include:
---
Risk assessment
---
Managing and assessing risk are important to identify and minimize the effects such risks could have on your organization. IT's role spans information security to project management, data management, disaster recovery efforts and more to prevent any unplanned failures or losses. But what should a CIO focus on when it comes to mitigating risk? "A guide to managing the risk assessment process" serves as a risk assessment primer and covers:
Dig Deeper on Small-business IT strategy