Evaluate
Weigh the pros and cons of technologies, products and projects you are considering.
Best practices for a SOA implementation and application integration
A service-oriented architecture (SOA) implementation and application integration allow information to be transferred and supported efficiently. Learn more about SOA best practices.
A service-oriented architecture (SOA) is the underlying structure supporting communications between services, defining how two computing entities interact such as to enable one entity to perform work on behalf of another. Having an SOA strategy for application integration allows a company to quickly create, consolidate and deploy services for rapidly changing business needs.

Download this free guide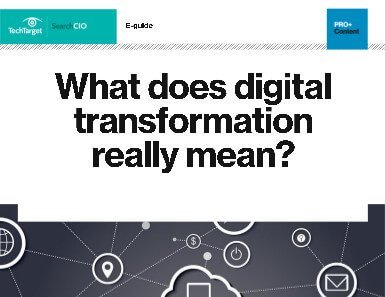 PDF: What does "digital transformation" really mean?
What exactly is digital transformation? You may hear the term often, but everyone seems to have a different definition. See how our experts define digitization, and how you can get started in this free guide.
In this guide, learn about the benefits and challenges of using an SOA strategy in your application integration initiatives and best practices for a successful SOA implementation, using our news, tips, expert advice and case studies.
This guide is part of SearchCIO.com's CIO Briefing series, which is designed to give IT leaders strategic guidance and advice that addresses the management and decision-making aspects of timely topics. For a complete list of topics covered to date, visit the CIO Briefings section.
SOA strategies and trends
Building a service-oriented architecture requires significant IT and business collaboration to ensure that IT builds the right services and that different business silos don't create duplicative services in a vacuum. SOA governance is the way to build in the processes and checks and balances to ensure your company does SOA right, and doesn't end up with a mess like a bank that built hundreds of services only to find out that one-third of them were redundant.
Whether you are gearing up for an SOA implementation or taking a step back to reassess the direction of an initiative, here are key steps to take to establish and maintain SOA governance.
Understand the overall picture of what you are trying to accomplish, not from a technology perspective but from a business perspective, said Todd Biske, a senior enterprise architect at $11 billion agricultural company Monsanto Co. and author of the book SOA Governance.
Get five more steps in "SOA governance: How and why to build it into your SOA initiative." Also:
SOA implementation advice
Aleks Buterman, founding partner of IT consulting company SenseAgility LLC, has seen SOA projects lose focus and stall because the team in charge is not documenting project stages and what has been achieved. "SOA is not just one project, it is a continuous process and there will be challenges. So when something comes up, be sure you can show what you've been able to achieve," he said.
And don't let the project take on a life of its own. Governance, regardless of the size of your organization, should be in place so that different departments and IT staff members aren't working in silos.
Learn more in "Successful SOA means a long process made of small projects." Also:
SOA best practices in the enterprise
Whether to buy or reconfigure SOA products depends on what you already possess in the way of software, according to Gartner Inc. analyst W. Roy Schulte.
"In a number of cases, a company doesn't have to pay anything, in software licenses at least, to do SOA. They already own the licenses to enough basic middleware (application servers, development tools) to do the SOA they need," said Schulte, vice president and distinguished analyst, application architecture and middleware, at the Stamford, Conn.-based consultancy.
"SOA only starts to cost more in software licenses if you have a very old software infrastructure or if you are getting into high-volume SOA with lots of services, especially on heterogeneous platforms. That's when you start to need ESBs [enterprise service buses], registry/repository tools and governance tools, and so on."
That was the case for CIO Erin Griffin, whose recent foray into SOA architecture progressed from using SOA principles to build open source-based Web services to the purchase of Oracle Corp.'s SOA Suite to effect business transformation.
Learn more in "SOA implementation evolves from open source to Oracle SOA suite." Also:
Dig Deeper on Enterprise application development, DevOps and software agility