Manage
Learn to apply best practices and optimize your operations.
Best in IT leadership series: CIO advice on five IT topics
Strong IT leadership can be an organization's lifeblood through thick and thin. Learn what it takes to be a good leader in these stories of peer success and expert advice.
Successful leaders share similar qualities: strong communication skills, operational credibility and the ability to inspire, to name a few. Effective IT leaders are no different -- achieving success and positive results by combining management skills and strategic planning. To bulk up any CIO's array of IT leadership skills, we've compiled our Best in IT Leadership series.

Download this free guide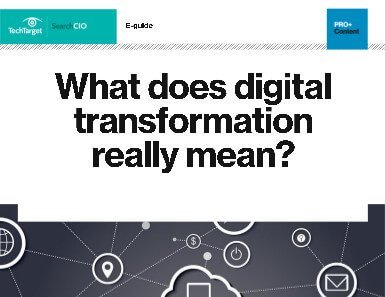 PDF: What does "digital transformation" really mean?
What exactly is digital transformation? You may hear the term often, but everyone seems to have a different definition. See how our experts define digitization, and how you can get started in this free guide.
By submitting your personal information, you agree that TechTarget and its partners may contact you regarding relevant content, products and special offers.
You also agree that your personal information may be transferred and processed in the United States, and that you have read and agree to the Terms of Use and the Privacy Policy.
With coverage across five core IT topics, we've brought together the collective wisdom of peers and experts alike, on some of the most challenging aspects of any CIO's job. Offering advice and lessons learned, our CIO IT leadership series uncovers how successful IT executives have tackled everything from paving a career path to managing IT change.
CIO career paths
There are many different paths CIOs can take to advance their careers -- and not all of them lead back to IT. Some CIOs spend time on the business side of the boardroom table, adding new skills and extending their network. Others enjoy long tenures in the same spots.
If you're unsure of your own CIO career path -- or looking to get on the right track to CIO success -- read what other CIOs have done to achieve their goals. Learn how to determine when it's time to move on from your current company, how an executive leadership coach can help you take charge, and how lessons learned from the business side can contribute to IT success in "The many paths of CIO careers."
IT transformation
Leading IT transformation -- whether it's an IT infrastructure overhaul or a change in the overall business direction -- is one of the CIO's most challenging tasks. No matter what an IT transformation project entails, completing it successfully can be a crowning achievement in your IT career.
Over the years, CIOs across different industries have shared their IT transformation success stories. Learn how they achieved results (and what they may have changed along the way) in "Leading IT transformation."
Change management
In any organization, change is constant and expected. But for a CIO, it can be one of the most challenging parts of the job. It's not always easy to get staff members on board with new technologies or workflows -- even if it means a more efficient way to do their jobs. As such, a concrete IT change management strategy, coupled with leadership and communication skills, is a necessary piece in the puzzle.
What's the best way to manage change in IT? While there is no single right answer to this question, understanding some of the approaches and methodologies other CIOs took can help you plan for it. Learn more in "Change management strategies."
Leadership skills
No matter where you are in your CIO career, taking the time to brush up on your leadership skills can help you overcome any management challenge -- and earn the trust and respect of your peers and employees.
From finding the time to focus on strategy to learning how to enable IT teamwork, we've pulled together some of the best advice from executive coaches and other leadership experts to help you improve your skills. Learn more in "Leadership tips from executive coaches."
Managing growth
Planning for (and embracing) growth is often an earmark in midmarket business strategy. Increasing sales, carving out a place in the market and expanding products and offerings all require strategic IT alignment -- to guide technological and informational decision making.
Learn how other CIOs managed growth at critical points in their organizations' history and development in "Managing growth in midsized enterprises."
Dig Deeper on Small-business IT strategy