Evaluate
Weigh the pros and cons of technologies, products and projects you are considering.
B2B integration guide for CIOs
Learn how to maintain a solid B2B integration strategy with the articles and tips in this CIO Briefing.
Maintaining a solid B2B integration strategy is critical for companies that want to successfully translate and communicate data with their partners and suppliers. Many companies are investing in the latest B2B integration technologies in an effort to cut costs and integrate their applications and trading partners. This guide includes a series of original articles, links and other material addressing the latest trends and technologies available to help you effectively exchange business content and information both inside and outside your organization.

Download this free guide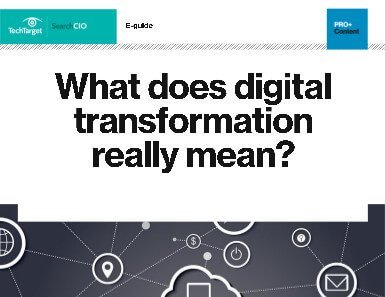 PDF: What does "digital transformation" really mean?
What exactly is digital transformation? You may hear the term often, but everyone seems to have a different definition. See how our experts define digitization, and how you can get started in this free guide.
This guide is part of SearchCIO.com's CIO Briefings series, which is designed to give IT leaders strategic guidance and advice that addresses the management and decision-making aspects of timely topics. For a complete list of the topics covered to date, visit the CIO Briefings section.
Integration
The Wells Fargo and Wachovia merger creates a financial services organization with $1.3 trillion in assets and 280,000 employees. The resulting technology integration -- encompassing 80 lines of business and 4,000 application bundles -- involves more than a dozen CIOs as well as integration leaders assigned to each line of business. At the helm of this massive IT integration are Wayne Mekjian, executive vice president and CIO of information services at Wells Fargo & Co., and Martin Davis, executive vice president and head of the technology integration office.
In the first installment of a two-part Q&A series with SearchCIO.com, Mekjian and Davis share how they blended the technology models at Wells Fargo and Wachovia to begin converting 70 million banking customers -- with the business directive to keep service interruptions to a minimum. In part two, Mekjian and Davis share advice on avoiding B2B integration pitfalls and explain how they created an "air space analysis" change management system and methodology to avert integration disasters.
Learn more in "Wells Fargo and Wachovia: The technology integration of two giants." Also:
Supply chain management
When Lalit Panda joined D&M Holdings Inc. as global CIO in August 2009, he faced an IT innovation challenge worthy of his degree from MIT's Center for Transportation and Logistics.
Privately owned by Boston-based Bain Capital LLC, D&M Holdings is a distributor of high-end audio and video components for the emerging home networking and home theater markets, as well as for commercial installations. D&M was formed in 2002 with the merger of Denon Ltd. and Marantz Japan Inc. The company, based in Kanagawa, Japan, has grown to 2,500 employees through acquisitions of such brands as Boston Acoustics, McIntosh and Snell Acoustics.
By the time Panda arrived, D&M's acquisition strategy had netted it 14 enterprise resource planning suites, 54 email domains, more than 200 websites, 250 servers, and several data centers and network providers.
Learn more in "D&M's CIO spots process levers for IT innovation." Also:
Collaboration
It used to be that when business executives needed some new technology, they presented their requirements to the CIO, who worked with IT to research, purchase and implement it. These days, however, most enterprises have an impressive installed technology base, and doing something new with what they have -- also known as IT innovation -- is a valuable component in their B2B integration strategy.
"Most institutions have every piece of software known to man," said Will Showalter, CIO at Sisters of Mercy Health System, a network of 28 hospitals across four states in the nation's heartland. "When the business presents its requirements, it becomes more about how you can tailor what you have through innovation," he said.
While Showalter was toiling in Chesterfield, Mo., last week, hundreds of other CIOs gathered in Scottsdale, Ariz., to discuss IT innovation with analysts from Gartner Inc. The Stamford, Conn.-based research firm adopted the concept of creative destruction as the theme for its CIO Leadership Forum, where the discussions were about how innovation often is the brainchild of collaborative thinking.
Learn more in "The need for IT innovation leads to aggressive collaboration." Also:
RFID
Retailer American Apparel Inc., known for its risqué ads and "Made in Downtown LA" label, is putting radio frequency identification tags (RFID) on every Boy Beater tank, Baby Rib brief, Cross-Back bra and Sleeve Ringer T-Shirt in its 17 New York metropolitan area stores. That's 40,000 items per store, each tagged with a high-tech chip, starting with the Columbia University location in Manhattan.
The company is using Vue Technology's TrueVue software to manage the RFID data, Motorola Inc. RFID readers and antennae to capture the data and Avery Dennison Corp. tags to locate and store that data at the item level. Los Angeles-based American Apparel is on an aggressive timetable to roll out the sophisticated inventory tracking system to an additional 120 stores in North America.
The question is why. Using radio frequency identification tags on crates -- never mind individual pieces -- is currently on the radar for only a handful of retailers, mainly behemoths like Wal-Mart Stores Inc. and its legions of suppliers now under orders to adopt transponder tags or else.
Learn more in "American Apparel makes radio frequency identification tags sexy." Also:
Manufacturing RFID basics
Brush up on your manufacturing RFID basics with this guide. Learn about the RFID definition, how to build an RFID business case, and find answers to common questions about the basics of RFID.
Guide to manufacturing RFID problems and challenges
Learn about common manufacturing RFID problems and how to solve them in this guide. Read about the unique challenges of manufacturing RFID, how to know if your organization is ready for RFID and more.
ERP
No matter what your company currently thinks about Facebook and Twitter -- and chances are very good it at least has discussed co-opting both for marketing purposes -- the social networking platforms are driving a fundamental change in the way enterprises will do their work in the near future. Now that Facebook has trained people to socialize online and Twitter has turned opinion into global "activity streams," the rush is on to develop enterprise collaboration platforms that add broad social networking capabilities to work processes.
From Cisco Systems Inc., IBM, Microsoft, Oracle Corp., SAP AG and Salesforce.com Inc. to Enterprise 2.0 pioneers Socialtext Inc. and Jive Software Inc., vendors are scrambling to develop social media tools for the workplace, either by adding a "social layer" atop the spectrum of a worker's business applications or by embedding collaboration tools into business applications.
Learn more in "With new enterprise collaboration platforms, 'social' means business." Also:
Dig Deeper on Leadership and strategic planning