Evaluate
Weigh the pros and cons of technologies, products and projects you are considering.
Vanguard Group invests in the future with an enterprise 2.0 project
High-performing "crew members" are the foundation of The Vanguard Group's blueprint for success. IT principal Abha Kumar is doing her part with an ambitious enterprise 2.0 project.
Looking for something else?
TECHNOLOGIES
Proving the value of blogs, wikis and other social collaboration platforms (not to mention fancy video conferencing equipment) can be tough, especially in a company that makes its living by investing. Yet in three years, Abha Kumar has helped launch an enterprise 2.0 project at The Vanguard Group Inc. that is paying real dividends.

Download this free guide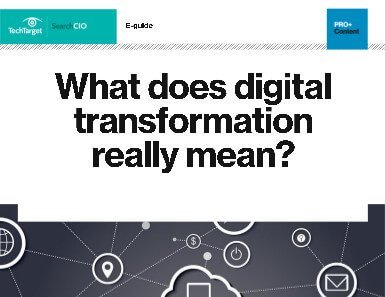 PDF: What does "digital transformation" really mean?
What exactly is digital transformation? You may hear the term often, but everyone seems to have a different definition. See how our experts define digitization, and how you can get started in this free guide.
By submitting your personal information, you agree that TechTarget and its partners may contact you regarding relevant content, products and special offers.
You also agree that your personal information may be transferred and processed in the United States, and that you have read and agree to the Terms of Use and the Privacy Policy.
What, for instance? How about 95,000 e-meetings in 2010 alone? Or 1,200 active Microsoft SharePoint sites, with the emphasis on active? Or a chairman's blog that virtually all of Vanguard's 12,000 employees -- or "crew members," as they are called -- virtually trekked over to in the past 30 days? Mulled over in 2008 and defined in 2009, Vanguard's enterprise 2.0 project operates on three levels, Kumar says: communication, collaboration and mobility.
By making Vanguard a more flexible and transparent place to work, Kumar explains, the project taps into the company's dictum that high-performing employees are the foundation of client loyalty and hence, profitable growth. A steering committee comprising representatives from Vanguard's business units and corporate administration, from legal and security to HR folks, makes sure the deployment of these new-age media communication, collaboration and mobile tools comes with the appropriate safeguards.
Kumar joined the Valley Forge, Pa.-based mutual fund investment firm in 2007. As the head of corporate systems integration and a principal in Vanguard's IT division, she is in charge of the strategy and delivery of technology solutions for Vanguard's corporate areas and international operations. Before joining Vanguard, she worked at Dow Jones & Co. as a vice president responsible for corporate systems; before that, she worked at The New York Times. I reached Kumar recently to talk about Vanguard's enterprise 2.0 project via that old-fashioned communication tool known as the telephone.
Transcript
Hi, I'm Linda Tucci, senior news writer for SearchCIO.com; and today I'm speaking with Abha Kumar of The Vanguard Group. Abha is a principal in Vanguard's IT division. As the firm's head of corporate systems integration, she's responsible for the strategy and delivery of technology products for Vanguard's corporate areas and its international operations. She joined the mutual fund investment firm in 2007. For the past three years she has spearheaded the technology component of Vanguard's ambitious enterprise 2.0 project, which aims to give the firm a competitive edge in the marketplace by putting it on the forefront of social communications, collaboration and mobility.
Welcome, Abha.
Kumar: Glad to be here, Linda.
What I'd like to delve into is the role you played in getting this innovation project off the ground; and also, how you got others to think about innovation.
Kumar: Well, it took a little bit of time, and it wasn't easy.
But what we realized early on is we needed a sponsor for our efforts, and our chief diversity and culture officer is our sponsor. And we actually have a steering committee. The steering committee has representation from all of our lines of business, so, our retail business, our institutional business. We also have representation from compliance, from security, from HR and obviously, IT. We all come together and start to talk about not just the technology pieces of enterprise 2.0, but really about the whole gamut that starts with governance, policies, adoption and then implementation. Because in order for the technology piece of the project to be successful, there must be a belief in the organization that it is important to the organization, and at the end of the day that it will provide us with a competitive advantage. And we need to have security and compliance represented, and legal, to make sure that whatever we do is within our regulatory framework and we're not breaking any rules, and we're actually also not going against our core values of preserving our client data and information.
So, how did you calculate the risks and the benefits and the ROI of innovation in the project?
Kumar: There are two ways we look at it. One of them is actually directly having these groups involved. Because having the groups involved in one place allowed us to take a look at what the business was asking for, and temper that with compliance and security. That was one way. So, even as we roll out products, we look at the governance, we look at the policy, we make policy changes if needed, and then very carefully roll it out.
But when we start to think about ROI -- because that is so critically important-- we start to look at adoption. We had over 95,000 e-meetings in 2010 alone. And we have approximately 12,000 crew members. That in itself speaks to the adoption of a collaboration and communication tool. We had over 9,000 webinars using Adobe Connect, for instance; we had 37,200 attendees. We have about 1,200 SharePoint sites that have been created.
We operate in a different way now than we did, I would say, even two years ago. This for us has been transformational, not just incremental, I believe.

Abha Kumar, head, corporate systems integration; and principal, IT division, The Vanguard Group Inc.
So, when we start to look at adoption, at each of these adoption points we start to look at the savings for the organization. So, if I had 95,000 e-meetings -- You might not be aware, but we are geographically dispersed, so our buildings happen to be a couple of miles away from each other. So, just thinking about the half-hour savings for me to go and come back from another building, you multiply that by the number of folks attending those meetings -- the ROI just jumps out at you. The same thing for our Tandberg rooms, our video conferencing with International; the same thing with SharePoint, where we no longer have to go and look for information and email 30 people that we know in order to find the information. We're actually able to go to one place and get the information.
And I think more so than anything else, the one thing I am really excited about is how well the business has actually embraced all of these technologies. So, some of our business areas have created their own blogs, where they have daily video updates, they have videos showcasing the accomplishments of the group. And what's fascinating about this is, the business is coming to us and asking for more and more!
So, in some interesting way, this has actually created a culture of innovation that has changed from being IT-centric and IT ideas to being business-centric, where the business says, "Whoa, why can't I do this? Can you let me do this? These are the new and exciting things I want to do!" And I think all of that, for us at any rate, gives us a highly engaged and productive crew.
It is just amazing to me to see how this project has just made the workplace a whole different way. We operate in a different way now than we did, I would say, even two years ago. This for us has been transformational, not just incremental, I believe. And at the same time we still believe in our age-old investment principles, but we are just leveraging new-age media communication tools.
And I think this is such an exciting journey for me personally. I was surprised by the impact that IT innovation is beginning to have on the company culture. And as we start to look at what the enterprise of the future is going to look like, we start to talk about the knowledge worker -- how the way organizations are structured is going to change. And I see that we are so well-positioned for that, having gone ahead and implemented a lot of these technologies.
So for me, I think we are in a position to be prepared for what the organizational changes of the future are going to look like, because the traditional concept of somebody coming into work and working from 9 to 5 is not going to exist tomorrow. I think the whole concept of managers leading all of the projects and making all of the decisions is going to change. I think we will start to see the emergence of the knowledge worker. And from a Vanguard perspective, I think we have a competitive advantage at this point in time.
And you've done this in the context of a very conservative company, we might want to remind listeners.
Kumar: Yes [laughs]. We have not changed the basic premises of our age-old investment principles. All we are doing is we're leveraging new-age media communication tools to get even better at what we do.
So, Abha, what do you know about innovation now that you didn't know before you started this project?
Kumar: In the past I always thought of innovation as sort of being something that technology does. But today I think of it quite differently. I think of it as something we do collectively with the business. And we move in the area that the business wants to move in. And we start to have a much larger impact on the organization at large. So, that's my lessons learned from this, and that is what actually I was surprised by.
How about one or two tips for CIOs who want to facilitate that sort of collective innovation? Anything you might recommend that they do or focus on?
Kumar: A couple of things. I think first of all, pick the key partners who are also looking to change the status quo, do things better. So, I think if you pick the right partners that is the first step in this process.
The second step in the process is ensuring that you have the governance teams, you've got the policy teams, and you can actually impact change in a way which does not go against your core principles; because at the end of the day you will never be successful if you go against the core principles of the organization. So, make sure that you are compliant, secure. We had many many conversations with some of our vendors if we felt that their solutions were really not secure enough for us. And I think in some cases, we actually helped them get more secure.
The third thing is that it does take time. Be patient.
Well, Abha, thank you very much for those three tips.
We've been speaking with Abha Kumar. Abha is head of corporate systems integration and a principal in the IT division of The Vanguard Group. This has been wonderful, Abha, hearing about your journey to put Vanguard in the…vanguard of corporate social media and enterprise 2.0 tools. Thank you so much of speaking with us today.
Kumar: Thank you so much. It's been my pleasure.
Dig Deeper on Digital business management
PRO+
Content
Find more PRO+ content and other member only offers, here.