MasterCard Worldwide chief technology officer (CTO) Rob Reeg talks to SearchCIO.com's Linda Tucci about IT as a competitive force, the company's rigorous project portfolio management discipline and the advantages of a follow-the-sun workforce.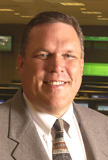 Rob Reeg
BIOGRAPHY: Reeg was named interim president, global technology and operations, at Purchase, N.Y.-based MasterCard Worldwide in January. He took the reins after predecessor Roy Dunbar left to become CEO at Network Solutions LLC.
In his new role, Reeg oversees the company's strategic processing platform, global network and quality of operations. As CTO, he is also responsible for all computer operations, network engineering, technology architecture, database management, program management and testing/software quality across MasterCard's global footprint.
Reeg led MasterCard's $160 million core processing systems re-engineering effort. MasterCard says the multiyear effort has given it the leading payments processing platform in the industry. The globally deployed software and computer network processes more than 25 billion payment card transactions annually and is responsible for the transfer of more than $1 trillion dollars between financial institutions each year.
Prior to joining MasterCard, Reeg held IT and business leadership positions at Sprint Corp., Cleveland Pneumatic Co., Totco Inc. and Conoco Inc.
This was first published in April 2008