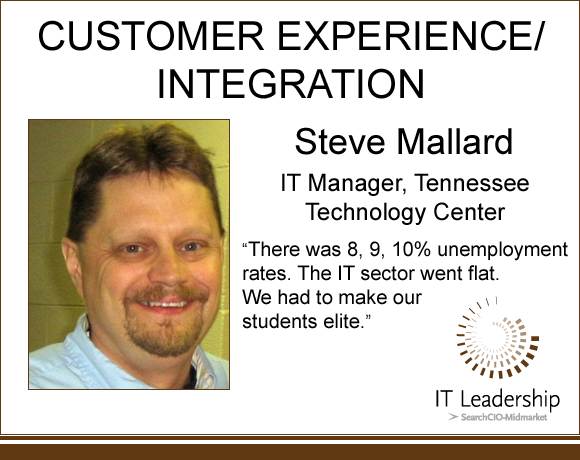 Source:
SearchCIO-Midmarket.com
The SearchCIO-Midmarket 2012 Customer Experience/Integration award is given to a leader who has made strides in building customer relationships and enhancing the experience of the external customer.
We are thrilled to announce that Steve Mallard, IT manager and teacher at the Tennessee Technology Center at Shelbyville, is the recipient of the Customer Experience/Integration Award. We sat down with Mallard to hear his thoughts on IT innovation leadership in this SearchCIO-Midmarket.com exclusive CIO podcast.
Mallard will receive a glass trophy and a $150 American Express gift certificate, as well as invitations to exclusive VIP IT networking events across the country. Mallard was nominated by Dawn Babian, network administrator at the Tennessee Technology Center.
The judges would also like to recognize Roger Kipe and Chris Lambrou for their dedication to innovating the customer experience at their midmarket companies.