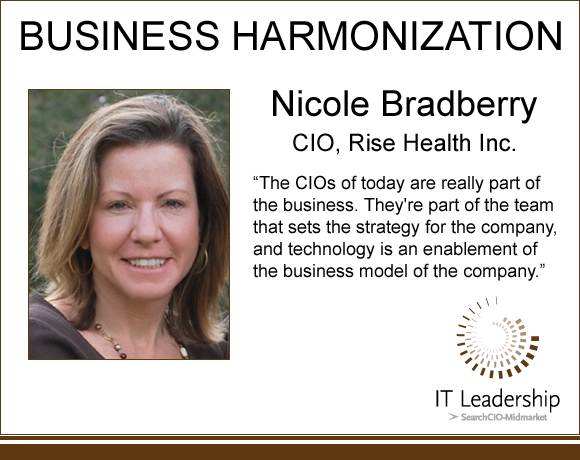 Source:
SearchCIO-Midmarket.com
We are thrilled to announce that Nicole Bradberry, CIO of Rise Health Inc. in Jacksonville, Fla., is the recipient of the SearchCIO-Midmarket.com 2012 Business Harmonization Award. We sat down with Bradberry to hear her thoughts on IT innovation leadership in this SearchCIO-Midmarket.com exclusive CIO podcast.
The Business Harmonization Award is given to a leader whose initiative promoted business goals and automation efficiency, and who shows exceptional business savvy, the ability to increase revenue and the skills to maintain or improve customer satisfaction. Bradberry will receive a glass trophy and a $150 American Express gift certificate, as well as invitations to exclusive VIP IT networking events across the country. She was nominated by Gino Tenace, Rise Health's president.
The judges would also like to recognize Jamie Gianna and Mauricio Vicente for their business harmonization leadership innovations.