News
Stay informed about the latest enterprise technology news and product updates.
Windows admins, developers meet up at TechEd
At Microsoft's big shindig for IT administrators and developers this week, company executives said they are working to bridge the gulf that once divided the two job roles.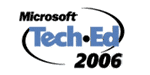 BOSTON -- Microsoft sought to demonstrate this week at its largest annual conference that its wide-ranging slate of products and technologies will bridge the duties of IT administrators and developers.

To make their point, Microsoft executives at TechEd 2006 here cited incremental advances in several areas while...
Continue Reading This Article
Enjoy this article as well as all of our content, including E-Guides, news, tips and more.

By submitting your personal information, you agree that TechTarget and its partners may contact you regarding relevant content, products and special offers.

You also agree that your personal information may be transferred and processed in the United States, and that you have read and agree to the Terms of Use and the Privacy Policy.

showing off their view of how the trend of software as a service -- also know as SaaS -- will affect traditional IT.

Leading the software releases was Microsoft's first beta for System Center Operations Manager 2007, formerly called Microsoft Operations Center. Executives also said Exchange Server 2007 beta 2 will be launched at the end of July. The messaging server will include some additional features such as better meeting request handling, support for HTML email and self-service remote device wipe.

Microsoft also announced it has rebranded the recently released Antigen email security product line as Microsoft Forefront. The company released Internet Security and Acceleration Server 2006, its VPN gateway and application firewall.

The company made public a number of application platform investments, such as the availability of a Community Technical Preview of SQL Server Everywhere, a lightweight version of SQL Server. Microsoft CTO Ray Ozzie said the company was releasing this week Dynamics AX version 4.0, an enterprise resource planning software package.

Ozzie, who is now in charge of Microsoft's SaaS initiatives, said they have the potential to change IT the same way that 32-bit servers, the Web and other high-impact technologies did. Ozzie dismissed what he said was an extremist notion that all client-server applications would go away in favor of an environment where all applications were accessed by a Web browser.

Microsoft will take a pragmatic approach, Ozzie said, making it possible for IT shops to make the transition from applications to services and vice versa. Internet-based services will change the way software is designed, installed and managed, he said.

Checking all the angles

Steven Guggenheimer, general manager of application platform and development marketing at Microsoft, said that IT and development are starting to merge.

"Development can't [happen in] a silo any more," he said. "If you're going to develop an application for security, you really have to think about [what impact] it will have on IT."

Developers of the past were typically under pressure to write software, but they didn't have to know much about the environment they were writing the software for, experts said. "They'd pretty much write it and throw it over the wall into the IT shop," said one IT consultant who asked not to be identified.

But security is something that has to be considered early in the development cycle. Developers have to talk to administrators to make sure what they are writing works, and that communication has to happen earlier in the development cycle.

This narrowing gap between IT and development could be more common at sophisticated IT shops in small to mid-sized companies. At Aughinish Alumina, an Irish chemical refinery, there are 500 end users and an IT staff of seven.

"We outsource our development today, but we need to have a good overview of what's going on," said Ian O'Gorman, an IT administrator at the Limerick-based company.

Despite the significant changes presaged by Microsoft executives here, not all customers are ready to consider SaaS. They said they may not even have the staff to develop applications. At TechEd, there is plenty of rank and file who have come to build on their knowledge of the basics.

The IT staff at St. Louis Community College only recently installed Active Directory after moving off of NT 4.0 and onto Windows Server 2003. Building in an identity management infrastructure is top of mind for the small college.

"The amount of development we do is minimal," said Mark Doering, manager of system programs at the college. "We're interested in automating some of the functionality we have."

This article originally appeared on SearchWinIT.com.
Dig Deeper on Small-business infrastructure and operations
PRO+
Content
Find more PRO+ content and other member only offers, here.