News
Stay informed about the latest enterprise technology news and product updates.
IT managers excited about Software as a Service
Software as a Service is an idea that many IT managers want to embrace, but there are loads of details that need to be ironed out.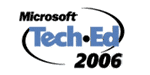 BOSTON -- Although many of today's Web-based services are geared toward consumers or small businesses, IT managers...
Continue Reading This Article
Enjoy this article as well as all of our content, including E-Guides, news, tips and more.

By submitting your personal information, you agree that TechTarget and its partners may contact you regarding relevant content, products and special offers.

You also agree that your personal information may be transferred and processed in the United States, and that you have read and agree to the Terms of Use and the Privacy Policy.

here expressed enthusiasm about their use within the corporate infrastructure as the technologies mature.

At TechEd this week, Microsoft chief technology officer Ray Ozzie broached the topic of Software as a Service in his keynote by lifting the lid on Microsoft's plans to develop its line of office services. Software as a Service, also called SaaS, differs from the traditional model of server-based provisioning in that the software is hosted.

Apart from applications such as customer relationship management, customers can purchase managed services such as email security from Microsoft's recently rebranded ForeFront product line, formerly known as the Antigen email security tools.

Microsoft also offers Exchange Hosted Services, as do other service providers. Another example is Web-based search, which lets customers search on their PCs, in corporate applications, within SharePoint or on the Internet.

The modern notion of Software as a Service is still relatively new, even though IT managers have heard the concept before. However, the technology for synching up internally and externally is much better than it used to be, said Shawn Willett, research director at Current Analysis Inc. in Sterling, Va. So for customers who considered the idea in the past and passed on it, it may be time to reconsider it on a more opportunistic level, he said.

"You obviously don't want to try everything as a service but choose something that makes sense," Willet said.

Although Microsoft hasn't articulated a clear strategy for enterprises just yet, Ozzie said that under the brand name Live, Microsoft will offer desktop, server and enterprise services that will be federated with applications in an overall IT infrastructure. IT managers said they are excited about the possibilities.

"The potential for us is huge," said John Larkin, an assistant engineer at SES Americom, the Princeton, N.J.-based commercial satellite operator. "The technology is coming that will get the job done. A few years ago you couldn't even think about this."

IT managers are looking for SaaS to deliver new options and opportunities, such as improvements to remote office management where special IT support might be needed.

"We're going to it," said Curtis Hinton, a programmer analyst at Ash Grove Cement Co. in Overland Park, Kan. "It will mean less and less IT overhead, and it will be easier to deploy [than traditional applications]."

Although customers are interested, many said they will watch closely and wait for the big issues to shake out. For example, how the services will stack up in terms of their security and what their maintainability and sustainability will be are still questions on IT managers' minds.

"Much remains to be seen," said one IT manager at a Seattle-based food service company who declined to be identified. "There are a lot of legacy systems to support. We are not sure how this will be delivered. A new company can adopt this kind of new service model, but older companies will find it more difficult."

This article originally appeared on SearchWinIT.com.
Dig Deeper on Cloud computing for business
PRO+
Content
Find more PRO+ content and other member only offers, here.