News
Stay informed about the latest enterprise technology news and product updates.
A Russian offshore services primer
The Russian IT services markets are among many growing alternatives to the dominant Indian offshore services market.
The Russian and related former Soviet Union states' IT services markets are among many new and growing locales that are potential additions or alternatives to the dominant Indian offshore services market. Although Russian firms typically possess strong and specialized skills, the overall market is still immature and high risk. However, offshore service consumers and providers should add it to the pool of potential IT service providers and locations.
Continue Reading This Article
Enjoy this article as well as all of our content, including E-Guides, news, tips and more.

By submitting your personal information, you agree that TechTarget and its partners may contact you regarding relevant content, products and special offers.

You also agree that your personal information may be transferred and processed in the United States, and that you have read and agree to the Terms of Use and the Privacy Policy.

CONTEXT
The former Soviet Union was legitimately known for the quality of its educational system and the technical skills its citizens possessed, particularly in mathematics, the sciences, and IT. These skills were primarily applied toward the public-sector aerospace and defense industries, rather than the practically non-existent private sector. The break-up of the Soviet Union and subsequent economic reforms have freed up those resources to operate in the private sector and seek access to Western markets. The result is a growing industry of firms, either headquartered in former Soviet Union states or leveraging those resources while headquartered in Western countries, offering "offshore" IT services.

This market is smaller, less mature, and more fragmented than that in other offshore locations in lesser-developed countries, particularly the dominant Indian market. However, it does represent a viable market for a certain type of services (technically intensive; see subsequent discussion) and situations (more mature users, firms considering spreading risk, firms with local connections). As both end users and large multinational service providers move from point offshore service provisioning to the development of global business and IT services sourcing and provision models, it is important that they include former Soviet Union markets and providers in the mix.

Market Overview
The dominant country from the former Soviet Union providing IT services is Russia. This is natural given that it is the largest state, but its dominance is also a function of its economic model, interest level in developing a services market, openness (relative to other former Soviet states), and strong émigré community, particularly in the US. Other countries from the region also growing their IT service capabilities include Belarus, Ukraine, Latvia, and Slovenia. Growth in these countries' services capabilities is being matched and sometimes exceeded by growth in Central European/former Warsaw Pact countries such as Poland, Romania, Hungary, and the Czech Republic. In some ways, such as size, skills, and educational base/system, these markets are similar to the Indian market five to seven years ago. However, there are differences, both good (maturity of offshore services buyers and global Internet/telecommunications infrastructure) and less good (economic/legal heritage, government support, political environments).

The Russian market size for exported IT services will approach $500 million in 2004 and is growing rapidly (25%+), though official/highly accurate numbers are difficult to find. Custom application development across the full range of application types is still the dominant service performed in Russia's IT service market. Although its firms possess strong development techniques and in some respects are more disciplined (at least relative to some US operations, though not most Indian providers), they typically do not have significant business process or vertical-industry domain expertise. Beyond application development, additional work performed includes custom R&D/design work and embedded system development, along with some amount of specialized testing, software package integration, and translation services.

Several major western multinational corporations have established offshore IT operations in Russia. These include Motorola, Intel, and Boeing. Most western firms operating in Russia, at least in the IT sector, have enjoyed moderate success and have been expanding operations. There are examples in the broader market; however, Russia's fast-moving and turbulent market is where western firms and investors have been burned (from IP loss to investment and business loss). This is not uncommon in developing markets, however, or developed ones, and organizations considering the Russian market must factor this into overall risk-assessment profiles.

Russia operates as a "controlled democracy." There are pros and cons to this model and its various alternatives, particularly compared to the former Soviet model. However, it is different, and western organizations must keep that point top of mind when considering the Russian IT services market. For example, its stock market has performed well against its peers. It also should enjoy relative business stability if the government maintains control, which is very likely. Organizations participating in the Russian IT services market and any other emerging or rapidly changing economy must keep close tabs and political and socioeconomic events and assess their potential impact on business activities being pursued.

Market Profile
The Russian IT services market has many strengths. Some of these are unique to its market (e.g., technical skills, size of professional base), while others (e.g., cost) are similar to those found in many offshore locations. However, for users considering offshore services or providers considering building out their own global services provisioning base, the questions should not be why, or why not, Russia. Instead, the questions should be the following:
When does offshore outsourcing make sense?
What are the skills required?
What is the existing risk/tolerance aversion?
What are the existing capabilities to source and manage far offshore resources?
In the context of these preconditions and in this backdrop, organizations can then interpret and assess the appeal of the following Russian market capabilities:
Employee skills: Russia has a relatively large base of college-educated professionals with degrees relevant to IT services. For example, it is one of top three countries in terms of engineers and scientists per capital globally, with more than one million currently in the marketplace.

Lower costs: Cost still plays the dominant role in offshore outsourcing decision making. Russia is a lower-cost market relative to IT costs in North America and Western Europe. It has average application development and maintenance costs of $20-$40/hour ($5K-$9K/year), which is comparable to the Philippines, higher than China and Vietnam ($15-$25/hour), and less than India, which had similar rates in 2002, but saw a growing rate inflation (20%) in 2003. Russia's gross domestic product per person was $2,400 in 2002, compared to $500 in India and $1,000 in China. In a more meaningful context, taking into account relative purchasing power parity, that number would be close to 3x higher ($8,300 versus $2,600 for India and $6,000 for China). The point is that a job in the Russian IT services market is relatively appealing and lucrative, and the overall Russian economy is more mature than in India and even China. This is in large part due to Russia's oil revenue; however, at this point, that means little to the IT services market.

Employee motivation: In many lesser-developed economies, highly educated workers are motivated to work in offshore services because it is an opportunity to significantly raise their income potential, as well as perhaps use employment as a lever for Western travel and possible emigration. However, the entrepreneurial spirit is not as strong in Russia as in other markets such as India and China, given the historical lack of a private sector and entrepreneurial class and lack of significant government support.

Education system: Russia has long possessed a quality education system, though it suffered from lack of funding in the 1990s. Investments are rebounding, as is a sense of direction, given the potential to channel graduates into the IT services market. However, more needs to be done to link the educational system into the growing private sector.

Lack of employment alternatives: For workers educated in mathematics, the sciences, and IT services, not that many alternative employment paths other than the IT services market exist (except potentially government/defense, oil industry, and related R&D sectors). This is in contrast to China where significant growth exists in other private-sector service industries, many of which focus inward on the Chinese market.

Geographic proximity to Europe: There is, for example, only a two-hour time difference between St. Petersburg and much of Germany. Close proximity is helpful for collaborative efforts and also obviously makes site visits less costly and time-consuming.

Non-European Union (EU) member: EU membership can bring countries many benefits, but also can detract from the appeal of their IT and business process service operations, It is unlikely Russia will join the European Union in the near future or ever. Countries that are joining the EU, particularly in central Europe, face challenges from greater labor mobility (e.g., IT practitioners migrating to higher wage countries), wage inflation, increased work rules and related costs, and reduced labor flexibility (e.g., ability to hire/fire workers). Although it will take time for these changes to affect affected markets, the degree to which countries evolve toward the higher cost and more restrictive labor policies of Western Europe, their appeal as offshore business and IT services locations will decline. The Russian market will be much less affected by these types of changes.

Expatriate communities: Russia has strong expatriate communities in both the US and Israel. This is helpful in many respects, including brokering deals and relationships, representing the base from which to build local operations and headquarters, developing sales, marketing and funding channels, and expanding local market-domain knowledge. Many Russian IT service providers are headquartered in the US, having been started by émigrés.

Stability and lower turnover: The Russian IT services market's small size, lack of employment alternatives, few growing foreign-owned service operations, and job mobility restrictions limit job hopping. Larger Russian IT service providers typically experience turnover in the 10%-15% range. This is in contrast to growing turnover rates (often 20%+) in the booming India market. Smaller Russian firms (the bulk of the market) experience higher turnover rates and in general are more transient as companies. The degree that turnover is a problem depends on the nature of projects being undertaken, but overall lower turnover leads to greater stability, reduced costs, and more consistency.
Although there are many strengths in the Russian IT services market, there are also many challenges. Russian public- and private-sector entities, as well as foreign investors, will all play a role in addressing them. It is critical that organizations considering Russian IT services clearly understand and factor in the following challenges and the risks they create:
Fragmentation and provider size: There are hundreds of Russian IT service providers, most of which are very small (fewer than 100 practitioners) and only a few years old. The largest have staffs of more than 2,000 and well under $50 million in annual revenue.(see Figure 1). This creates a scenario of unknown firms with questionable stability and viability from the user perspective. It also means that many offshore projects are simply too large for these firms to undertake. Although consolidation is an option, it will prove challenging from a business perspective, particularly across borders (e.g., a US-based Russian firm buying a domestic Russian provider). Restrictions on foreign ownership and taxation disincentives also limit the capability of large multinational service providers to rapidly buy-up/build out local Russian operations.

Modest government support: Many growing/leading offshore business and IT services marketplaces (e.g., India, Philippines, Malaysia, China, Israel, Ireland) have benefited from active government support and promotion. This can include developing favorable trade policies, providing direct and indirect investments and tax incentives, promoting business and industry collaboration, and actively touting the market and services abroad. The Russian government has largely taken a hands-off approach to the IT services market. This is in contrast to its hands-on approach in larger and more mature industries. Indeed, the overall less-than-favorable business environment, from the perspectives of business law, taxation, intellectual property controls, trade and investments policies, and overall market controls, has had a negative impact on the fledging IT services market. Although there has been some uptick of formal support of late, many improvements are needed and required -- and sooner rather than later.

Reforms to the legal, business, and taxation regimes: Russia has one of the more immature, opaque, and restrictive economies in terms of business law, foreign direct-investment practices, taxation, and IP protection. It trails India, but in some areas, including IP protection, it is ahead of China. There is no indication of any major inclination for the government to reform in these areas any time soon, necessitating that the consumers of Russian IT services learn to navigate and hedge in this high-risk environment as best is possible.

Infrastructure immaturity: Russian telecom and Internet infrastructure is relatively immature (C2 on the META Group Telecom Maturity Model scale, as is the Ukraine). This is especially the case outside major city centers such as Moscow and St. Petersburg. There are also some lingering issues around access and censorship, though this does not generally affect the IT services marketplace. This compares to the more mature markets of Central Europe (e.g., Czech Republic at B1, Poland at B2, Hungary C1), while the Ukraine lags the pack at a D rating. This maturity, or lack thereof, is measured as a function of access, reliability, and cost. Russia has improved IP networks and has increased capacity in wide-area network (WAN) clouds. A major issue, though, is inadequate infrastructure for last-mile connectivity or private-line circuits to connect an office building to the WAN cloud. During 2006-08, however, we expect Russia to move into Band B as the government funds infrastructure modernization to attract and support multinational businesses and the IT services market, but the process will be slow.

Limited business process/vertical industry domain expertise: This domain knowledge is critical for designing and delivering IT services beyond core infrastructure and development work. It is a must-have for more complex services like business system development and package implementation and an imperative for BPO. For this reason, coupled with significant language and other cultural issues, Russia has little appeal, for example, as an outsourced contact-center destination. For other types of IT services, the quality and maturity of a local provider presence, acting as a bridge back to Russian-based resources, are critical.

No national champion: There is no single or loud national champion (e.g., akin to India's Nasscom) to promote and market the Russian services marketplace (see Figure 2). Although this is natural given the current size and state of the market, it is critical to build out this entity as rapidly as is possible and viable, minimally through the consolidation of existing groups. This has begun with the recent merger of Fort Ross and RusSoft.

Lack of business educational collaboration: Although Russian universities turn out many skilled graduates, there is little coordination to place them in industry or to define the most relevant skills to teach. Nor are there any significant or formal internship or work-study programs, leaving students largely on their own for direction and work. This is largely a result of the lack of maturity in the private sector and lack of attention and resources from the public sector. The Russian economy has been through great throes that continue as it privatizes, but turning attention to promoting the IT services market would benefit service providers themselves as well as the services industry as a whole. Perhaps a benevolent, IT-savvy oligarch is needed.

Lack of brand: Although Russia and the former Soviet Union states as a whole are relatively well known in the West, there is little awareness or understanding of the Russian IT services market among potential consumers of its services. This is a function of typical small firm size, no national champion, limited government support, language/cultural issues, and the historical lack of a marketing mindset in the Russian economy. In a controlled, socialized economy, marketing did not exist. The Russian IT services industry, as a whole, needs to take the lead in promotional and brand-building efforts, though in the near term individual firms will need to market their capabilities via networking and account building in their Western operations.

Regulatory obtuseness: Russian IT service providers have little if any understanding of the increased regulatory compliance mandates that North American and Western European firms are facing (e.g., Sarbanes-Oxley, Basel II, HIPAA). This is the norm for most offshore service providers, and many onshore ones as well. Regulatory impact will become most acute on outsourced business and IT process services but will also affect other types of IT services like application design and development. Russian IT service providers will need to strengthen their knowledge of these regulatory requirements and determine where operating practices might require changes (e.g., around data privacy, controls documentation, or change management).

Cultural disconnects: Western firms operate in a particular style and fashion that can differ from Russian organizations. This is a common situation across all offshore outsourcing locations and increases the more distant the sourcing location from an economic and cultural standpoint. Russia in particular does not have a strong or long history of economic openness, a consumer-driven or service economy, or private-sector business operations and best practices. Although this matters less when seeking skills to address complex scientific or IT problems, it does come into play when considering more service-oriented tasks (e.g., application management and support) and certainly outbound service activities (e.g., contact centers).
Figure 1


Figure 2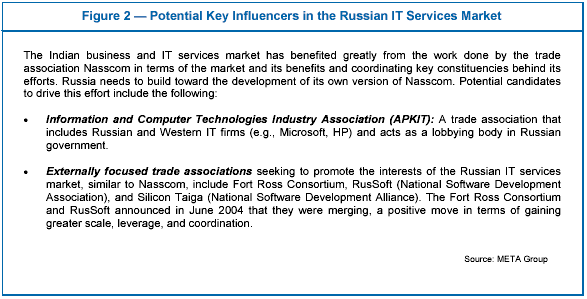 Buying Into Russian IT Services
Users and service providers must take into account various factors when considering and assessing the Russian IT services market. These factors largely hold true when considering most other emerging offshore marketplaces for business and IT services:
Maturity of sourcing capabilities: For the most part, only more savvy, sophisticated, and experienced consumers of offshore services should engage the Russian market at this time. Beginners in the Russian market should consider providers with established local/Western operations as a starting point.

Mapping specific services needs: Firms seeking generic offshore ADM capabilities should generally consider more mature markets for these services. Russian IT services make the most sense when specialized skills are required (e.g., mathematics, physics, bio-informatics).

Profile of the nature of the work: Candidate consumers must understand upfront the need for local resources, cultural understanding, language considerations, and vertical-industry/business process domain expertise. More IT/technology-centric efforts, work around complex R&D efforts, and projects that are relatively easily self-contained make the most sense for the Russian market.

Regulatory impact assessment: As with the use of any external services, users must understand and account for any regulatory requirements. Outsourced process management, for example, will likely minimally require a SAS 70 audit to address Sarbanes-Oxley requirements. Privacy edicts will affect who can access certain types of data. The overall regulatory environment will require users to rethink how they perform certain processes to minimize compliance overhead. Finally, even when compliance requirements are being met, challenges still exist in showing compliance adherence to auditors and regulators, a process that gets more difficult if work is being performed far offshore.

Availability of local or multinational brokers: Russian IT services become more viable and appealing when users can deal with and operate through a local representative or via a multinational service provider with its own Russian operations. The latter, however, is a longer-term proposition.

Capability to vet Russian providers: Users must be in a position to adequately identify, vet, and assess Russian IT service providers. This must include not only an emphasis on IT capabilities, but also the means to interpret the impact of business law and jurisdiction and the proposed efforts. The capability to do this will also derive from overall services sourcing capabilities, past experience with the Russian market, or the use of third-party brokerage services.
Improving the Market
Multiple parties will play a role in the maturation and expansion of the Russian IT services market. First and foremost, the government must play a stronger and more active role. This is happening -- slowly. Part of its work should be to open the market to more foreign investment and improve the business law and tax structures to enable that trend. This would more readily enable and encourage Russian émigrés and Western-based companies of Russian roots, multinational and Indian-based business and IT services, and Western firms considering developing wholly/partially captive local operations to expand their investments, ultimately helping the local market. This would also help firms (e.g., HP, IBM, Microsoft) already selling IT products in the Russian market to also expand their service offerings for both export as well as internal consumption. However, the timing and likelihood of this opening is unclear. What is clearer is that the Russian economic and political environment is not going to evolve into a free-market/democratic/Western-style model as some had anticipated/hoped after the demise of the Soviet Union. Therefore, firms operating in Russia and consuming its IT services will face special challenges and circumstances for the foreseeable future.

The emergence over time of stronger national champions will help to both promote the Russian IT services market as well as educate service consumers on its expertise and more unique capabilities. This is already occurring, but representative parties must accelerate efforts. Western services and IT product firms can also play a role in promoting Russian IT services. As business and IT services become more global, and users more experienced in tapping into it, the Russian market will gain visibility by association. Also, as costs increase in early market-leading states like India, cost-conscious buyers will begin to consider new markets for services. Russia, with its more stable costs, as well as skills and expertise to make it not just a low-cost but also a high-skill alternative, will also benefit.

On a macroeconomic and geopolitical scale, Western governments would also benefit from promoting the Russian IT services market. Although on the one hand there are both legitimate and politically motivated concerns about outsourcing and related job losses in Western countries, there are equal, if not greater, concerns about the political and economic stability of Russia and other regional countries. It is better to have skilled scientists working in IT services to solve complex business problems and helping grow and stabilize the overall Russian economy than pursuing less virtuous efforts. And better to have a stable and growing Russian economy than one in peril, with the associated political and social problems that would create. To this end, carrots and sticks to open and support the Russian IT services market are highly advisable.

Bottom Line: Users and service providers considering the Russian IT services market will face challenges, but the market does have appealing and specialized skills and a growing provider base. Stronger Russian government support could drive maturation but will be slow in coming.

Business Impact: The market for provisioning business and IT services continues to globalize, with Russia becoming another viable player. The challenge for users and services providers, however, is mastering consuming and delivering services globally, more so than focusing on selecting and engaging any single country.
---
Click here for more business and IT research from META Group
Copyright ©2004 META Group Inc.
Dig Deeper on Contract negotiations and legal issues
PRO+
Content
Find more PRO+ content and other member only offers, here.