Marketing is a
necessary and integral part of running a smart IT organization. Yet while most CIOs would heartily agree that it's important, far too few effectively
market IT
. Even in the midst of the ongoing image wars so many CIOs are fighting within their companies, the prospect of actually marketing IT remains surprisingly controversial.
For this month's CIO Habitat, we delved into the subject of IT marketing and began by asking respondents a basic question: "When you arrived at the company, did IT have an image problem?" As Figure 1 (below) shows, just about every CIO today has walked into a broken IT shop.
Our research indicates that large-company CIOs are closer to winning the image wars than their midmarket brethren (see Figure 2, below). Our data suggests that the image problem plaguing 70% of midmarket CIOs could be reduced by IT marketing initiatives such as these:
When chronicling IT "victories," have the finance department audit, certify and deliver the results.
Include IT updates in the stream of news aimed at your corporate population.
Collect and act on data from employee surveys.
Have senior IT staff spend time with executive-team members who don't understand the value of IT.
Deliver value that customers talk about.
Refocusing the IT Image Problem
At some point in their careers, nearly all CIOs have confronted an IT department image problem. "When I joined the company," recalls a midmarket insurance company CIO, "the IT division was hated by all, including the board of directors, executive management, middle management and user communities."
"Many of my business colleagues perceived IT as being nonresponsive to their needs," adds the CIO of a federal government agency. "They felt that the IT agenda was not aligned with the one they had." That kind of disconnection surfaces frequently as the first problem new CIOs must solve, says an insurance industry IT executive. "We were seen as a utility [rather than] a dependent and strategic business partner."
New CIOs often confront these kinds of image problems:
A lack of confidence in IT's ability to deliver
The perception of IT as only a utility
A perceived failure to meet the needs of the business
A lack of transparency between business priorities and IT priorities
Poorly understood IT governance processes
Little credibility for IT-generated cost data
"The most memorable interactions between most managers and their IT departments occur when computers fail to operate," says Leslie M. Fine, academic director of the executive MBA program at the Ohio State University's Fisher College of Business. "Strategies flounder and plans languish because there's not enough information to decide how to move forward."
Outside IT, managers forget that the i in IT means information. Many IT departments become so focused on creating and maintaining a technology infrastructure that "they neglect to explain or demonstrate how that technology can collect, analyze, synthesize, package and deliver information," Fine notes. Delivering the right information in the right form at the right time and price is crucial. "Managers are desperate for that information bundle," she says. "The CIO can become an ally by promising it and will become a hero for delivering it."
One utility industry CIO, who has worked at the same company in roles outside of IT, sighs while observing, "Being CIO is the only role I have ever had where every day I had to be ready to explain what IT does and how IT contributes to the bottom line. Finance doesn't have to do this. HR doesn't have to do this."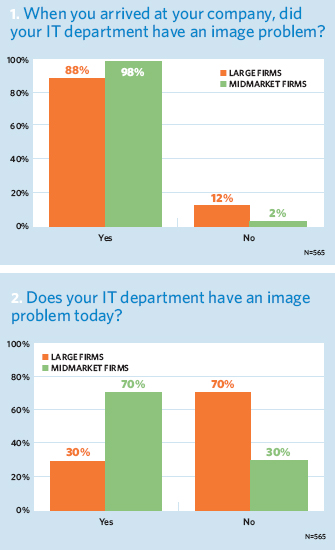 This was first published in February 2007