Think People, Not Tools - (bookshelf)
This Article Covers
RELATED TOPICS
Looking for something else?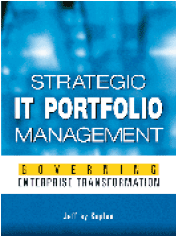 The best place to start reading Jeffrey Kaplan's Strategic IT Portfolio Management may be the last chapter, where he dishes on the major obstacle to IT portfolio management: people.
The notion of managing IT investments like a portfolio has been around for years, but rolling out such exacting, process-driven practices "shifts the power base of an organization," notes Kaplan, a director in the IT strategy practice at the Washington, D.C.-based consultancy PRTM. Midmarket companies may have an advantage in implementing IT portfolio management, he says. Not only are business processes at midsized firms less complex than those of larger enterprises, but midmarket CIOs are less likely to waste money on pricey tools.
With a textbook-like approach, Kaplan covers all the basics, from governance to design and decision support. He discusses portfolio management applications almost in passing, observing, "software will not make people make decisions." Like golf, it's the method and the players, not the tools, that make the game. ($29.95, 285 pages)
Dig Deeper on IT and business management for Small Business