The Dynamic of IT Teams in 2014
5 big dysfunctions that will hurt your IT team. How to avoid these pitfalls and turn a dysfunctional team around.
Looking for something else?
TECHNOLOGIES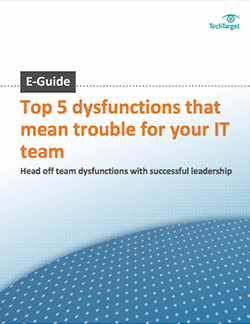 The Dynamic of IT Teams in 2014
Everyone knows great communication in a team setting is much easier said than done. And we all can agree that no matter what type of team situation you find yourself leading, a good team is only ever successful if it has a strong foundation.
To avoid finding yourself in difficult communication situations with your IT team, and ultimately having an unsuccessful and unproductive team, here are 5 of the most devastating dysfunctions you must avoid and innovative tips for rectifying them.
Dig deeper on Leadership and strategic planning