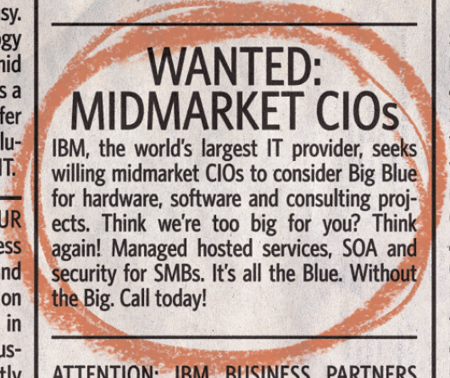 Brian Madison is a wanted man. As the director of information services at Metalwest LLC, Madison is at the center of a business that might not sound sexy: selling flat-rolled metal products such as stainless steel and aluminum. But its balance sheet is looking good, and the privately held company is predicting $370 million in sales this year. What IBM wants, and what Madison has, is a midmarket IT shop gearing up for strategic growth.
This year the Brighton, Colo., firm has an enterprise resource planning (ERP) upgrade and a data warehouse project on tap. IBM already has a foot in the Metalwest door with its pSeries and xSeries servers. But Madison isn't a true Big Blue fan, so he isn't rushing to do more business with the world's largest IT company right now.
For starters, Madison sees his pSeries servers sort of like family members: He lives with them, but it's not like he has a choice. "The only reason why we are using pSeries is because our ERP provider requires it. That whole line is priced out of our market," he says. "Every time we upgrade the pSeries server, we are looking at a $100,000 investment."
He also uses the IBM Tivoli backup solution, but only because he rents his storage area network (SAN) and backup from a company that uses Tivoli. "We wouldn't have bought Tivoli on our own," Madison says. "We would have bought [Symantec Corp.'s] Backup Exec because that's the midmarket product of choice."
Then again, Madison chose IBM's xSeries because it was competitively priced for smaller companies. He chose IBM's laptops because they are so darn durable. "They aren't the least expensive, but they provide a lot of value," he says.
All in all, this 38-year-old Colorado native -- who crushed rocks for a mining company before heading into IT -- represents IBM's challenge as it goes after midsized clients on every continent.
Getting these customers on board won't be easy. IBM is striving to build credibility in a market where everyone knows its name, but also where everyone associates those three famous letters with a century-old tradition of monolithic systems, heavy corporate hierarchies and high-priced consulting fees. Even ardent IBM fans say the company can be confusing, with dozens of product lines and strategies supported by a steady stream of press releases and a reputation for sending in the proverbial cast of thousands to do small jobs.
In order to get real traction in the speedily growing midmarket, the heavyweight will have to remake its image as a middleweight champ: powerful, fast, crisp and smart.
"IBM still has this image of being big," says Steve Solazzo, IBM's general manager of global midmarket business, which last year accounted for $16.4 billion in revenue. "Our overwhelming challenge is not that we don't understand what the midmarket needs; our overwhelming challenge is that we're not being considered," even by IT executives who, when surveyed, give high marks to IBM products.
"We recognize how hard it is to reposition a brand," Solazzo adds. "You just don't turn an aircraft carrier around in 100 yards."
This was first published in November 2006