How is your company performing? If you can't answer that question quickly -- or at all -- maybe it's time for business performance management software.
Charlie Sanders, senior business analyst at Morton Grove Pharmaceuticals Inc., says his team used to get calls from many departments wanting "performance" numbers to show how well they were doing. "We were always being hounded at our desks for information," he says, adding that he'd have to thumb through several Excel spreadsheets to get at the data.
The sales department wanted to know what products were hot and which wholesalers did the most business. When the accounting department went to close the books each month, it took three days for it to get the data it needed. The various departments produced performance numbers on their own, and the numbers didn't necessarily match up with those from other departments.
So Sanders brought business performance management (BPM) software into the operations of Morton Grove in Illinois, a manufacturer and marketer of more than 50 specialty oral and topical liquid products. The software from Business Objects taps into three key systems -- enterprise resource planning (ERP), contract and chargeback -- and enables a half-dozen groups, from accounting to sales, to produce reports using standardized metrics and obtain those prized performance numbers.
Since the BPM initiative two years ago, Morton Grove practically runs its business off these reports. That is, many departments dig into the data to measure their progress against goals and drive decision making. The field sales department routinely produces 20 different reports. Chemists have 10 reports. This year the purchasing and supply chain departments will be on the BPM system and will be able to crank out reports. Accounting runs up to 50 reports monthly that cover gross profit, units sold, year-to-date budgets and more. Instead of waiting three days for data to close the books, the accounting department now gets the information overnight. Obtaining information for government filings used to take a couple of days; with BPM it takes 15 seconds, Sanders says.
BPM -- also known as corporate performance management (CPM) -- is the latest acronym to stir up the tech set. Think of BPM as a suite of five basic applications: budget planning and forecasting, financial consolidation, financial and statutory reporting, profitability analysis and score-carding. Its core processes include modeling, analysis and monitoring of key performance indicators (KPIs) linked to organizational strategy. The suite often sits atop an ERP system yet taps many systems, ranging from production to sales.
While business intelligence (BI) engines provide nitty-gritty data analysis and business process management tools optimize processes, BPM gathers key metrics and serves up a numerical "scorecard," or report, that rates business performance. BPM essentially enables businesses to define strategic goals and then measure and manage performance against those goals. "CPM is all about getting lots of different systems feeding the information into one system and then aggregating the data so you get the numbers," says Gerry Brown, an analyst at U.K.-based Bloor Research.
BPM and BI are very much related, but there are differences. As Sanders describes the relationship between the two technologies, "if we have a product and we're noticing through [BPM] reports that we're seeing a downtrend, then we'll pull data from [BI] and overlay it with other reports to find out why."
Score One for Microsoft
Previously, Elevations Credit Union faced a towering challenge: It couldn't get a consistent view of what was happening across its various lines of business, such as lending or deposits. The seven-branch Boulder, Colo.-based credit union had developed a manual scorecard, but it couldn't crunch the numbers fast enough to allow managers to affect operations.

An automated scorecard became the obvious answer.

John McCartney, the vice president of information technologies at Elevations Credit Union, checked out many scorecard-type applications before going with Microsoft Business Scorecard Manager. The decision driver: Microsoft already had a significant presence at the company. "I am real big on integrated products," McCartney says.

Many midmarket companies like Elevations Credit Union, which has 76,000 members and assets of nearly $700 million, run their businesses on Microsoft software. When it comes to business performance management (BPM) software, such as scorecards, it's not surprising that many medium-sized companies stick with the Redmond giant.

Elevations Credit Union uses Windows, and it had just upgraded from Microsoft SQL Server 2000 to SQL Server 2005. That meant it could use the latter's reporting services and dump its existing Crystal Reports application. Business Scorecard Manager was a simple plug-in with SQL Server and integrated with Active Directory, so McCartney knew he had permissions and security built in. A local IT services company, Managed Business Solutions, implemented Scorecard Manager.

Still, McCartney almost chose another scorecard offering, but the drawbacks were typical for a midmarket company strapped with limited financial and staff resources. "This other product was stand-alone, and I was going to have to manage a stand-alone security environment," McCartney says. "I just didn't want to have to do that. Also, candidly, the other solution was twice as expensive."

But scorecards alone couldn't solve the credit union's problems. McCartney had to get all executives involved and figure out a way of looking at key business drivers, which in Elevations Credit Union's case were loan and deposit growth. "Our largest challenge was to get our leadership team together and get them to agree upon how they wanted the data to look, what they wanted represented, and how often they wanted it told," McCartney says.

For instance, there were two different ways to look at deposits. After some discussion, the team finally agreed that it wanted to base numbers on how deposits were posted on the general ledger rather than what was seen on a daily basis. The general consensus was that given the view of the business that managers wanted, the general ledger was more accurate.  -- J.S.
BPM and the Midmarket
Success stories from companies like Morton Grove, which has some 150 employees, are bringing BPM -- traditionally an enterprise-class product -- to the midmarket. Just ask John McCartney, vice president of information technologies at Boulder, Colo.-based Elevations Credit Union with 76,000 members and nearly $700 million in assets.
When Elevations Credit Union ran a promotion trying to interest members in new certificates of deposit, Microsoft's Business Scorecard Manager showed management almost immediately that the CDs were a hit; consumers were depositing new money with the credit union.
With this information, the credit union was able to change its marketing and extend its promotional offer. "Previously, if we wanted that [new deposit] information, it would have been a two-week request -- way after the fact -- and we wouldn't have been able to change the way we were marketing that new product," McCartney says. (For more on Elevations Credit Union's BPM journey, see "Score One for Microsoft," above.)
As with most business software, BPM first targeted the deep pockets and complex, disparate organizations of the Global 2000. By contrast, smaller companies could get away with Excel spreadsheets to track business performance.
Today fast-growing midmarket firms are at a tipping point. As budgeting and planning become ever more complicated, equally complex financial reporting requirements come into play. Some organizations have or are subsidiaries, while global operations can make measuring business performance tricky. Most midmarket companies have financial systems but need something that hovers over all systems and reports on business performance quicker, better and in a compliant way. They need faster budgeting and planning and the ability to consolidate numbers from different systems or units. In an acronym, they need BPM. (Business performance management shouldn't be confused with business process management.
Independent consultancy BPM Partners of Stamford, Conn., posted questionnaires on several vendor and magazine websites this year. The key finding: Budgeting and planning are still a company's biggest pain points, and smoothing out these processes is a typical starting point for BPM. "The budget and planning process is still broken after all these years," says John Colbert, vice president of service development at BPM Partners. "It is a huge opportunity for vendors."
Interestingly, the findings indicate that data visualization is one of the top drivers of BPM purchases. Management clearly wants facts and figures that are easy to understand via simple eye-catching graphs that update the more mundane bar and pie charts of Excel. (Gartner Inc. estimates that as many as 60% of the world's businesses still use Excel as their primary budgeting tool.)
There's little question that BPM adoption is on the rise. Surveys at Gartner's BI summits in 2006 confirmed that BPM is the highest priority for companies considering analytical applications. A BPM Partners survey found that more than 70% of 531 respondents have BPM projects under way or in the planning stage. Among higher-end midmarket companies, the percentage rose to nearly 80%. "The numbers keep trending in the right direction," Colbert says.
Of those in the BPM game, about half say they are starting new projects. One in three is expanding an existing initiative, while 13% of respondents to the BPM Partners survey say they are already replacing their supplier. "We are calling this stage 'BPM 2.0,' which involves either taking it enterprise-wide or getting more people and data involved," Colbert says.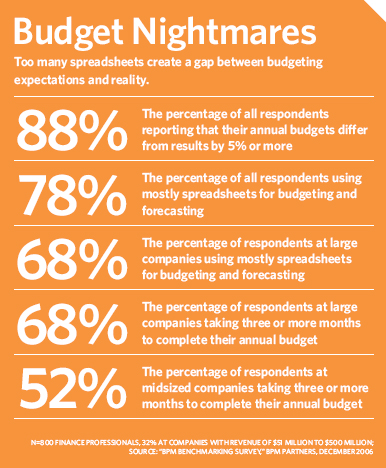 The Vendor Landscape
BPM providers haven't missed the signs either. More than 100 vendors are pitching BPM products. The list has grown every year, although industry watchers expect market consolidation in the near future. Vendors range from enterprise-software suite giants SAP AG and Oracle Corp. to BI pioneers Hyperion Solutions Corp. of Santa Clara, Calif., and Cognos of Ottawa, Canada, to midmarket-focused players such as Satori Group Inc. of Philadelphia; OutlookSoft Corp. of Stamford, Conn.; Applix of Westborough, Mass.; and Toronto, Canada-based companies Clarity Systems Ltd., Longview Solutions and Prophix Software.
Naturally, SAP and Oracle try to sell BPM to their ERP customer bases. Hyperion, Cognos and San José, Calif.-based Business Objects have added BPM to their popular BI product lines. Business Objects did so when it bought SRC Software in 2005. Meanwhile, Satori has taken a vertical-industry approach. OutlookSoft and Prophix Software's Microsoft-centric solutions are honed for midsized companies, providing ease-of-use templates and the look and feel of Excel spreadsheets.
Nearly all BPM vendors have set their sights squarely on the midmarket. OutlookSoft claims that 60% of its BPM customer portfolio comprises companies with less than $2 billion in revenue. Although Nigel Rayner, Gartner analyst and author of "Magic Quadrant for CPM Suites 2006," believes that in most cases Hyperion is priced out of the midmarket, Hyperion's senior director of product marketing, John O'Rourke, tells a different story. "The general impression in the marketplace is that we have focused on large enterprises," he says. "But as it turns out, about one-third of our client base is represented by companies with under $1 billion in revenue, and a quarter of our base is under $500 million in revenue."
So what makes a BPM offering a good fit for midmarket companies? Not necessarily the same things that make it appropriate for larger companies. For example, top-tier companies need a strong financial consolidation module, but midmarket firms may not find the module as important, says Rayner.
"Satori has a financial consolidation reporting bit, but not the true, heavy-duty financial consolidation," says Rayner. "For the target market, that's not necessarily a big issue, [because] their consolidation requirements are very simple -- more aggregation than true complex financial consolidation."
With its vertical focus, Satori sets itself apart from some of the better-known BPM vendors geared toward the midmarket. To date, the company has more than 80 customers worldwide, most of which are in the legal profession. This year Satori is moving into other professional services sectors, such as IT consulting and architectural engineering.
Satori hopes midmarket companies will gravitate toward vertically focused products because they require less customization to get up and running. Less customization translates into savings on consultancy fees and quicker returns on investment. One of Satori's early adopters was Philips Lytle, a Buffalo, N.Y.-based law firm. Every year, the firm undertakes the complicated task of determining partner compensation based on performance. This traditionally labor-intensive, error-prone process used to require a team to work 100 hours around the clock during the busy budget cycle.
Philips Lytle turned to Satori's proCube software to automate the task. The firm chose the software partly because the product already had the nuances of the legal profession built into it. For instance, the software could access a data source using one application framework and one interface to streamline and automate partner compensation calculations, reporting, and analysis.
And that's just what happened, says Brian Eckert, director of finance and administration at Philips Lytle. "The level of automation has given the firm back 92 man-hours at an extremely hectic time in the accounting and budgeting cycle," he says.
The BPM software further allows the law firm's management team to see the actual profitability of each partner and demonstrate how partners can work at peak efficiency.
Redmond Weighs In
With its PerformancePoint Server (PPS) 2007 due out later this year, Microsoft will join the list of BPM vendors. The software has a wide-ranging target, from the Global 2000 to the lower end of the midmarket. "It's potentially a world-changing, earth-shaking event in the CPM industry," says Brown of Bloor Research. "It will move midmarket companies to the next level of enterprise functionality in performance measurement and analysis without the up-front costs" of investing in stand-alone BPM systems.
PPS will be tightly integrated with Microsoft SQL Server and Office, as opposed to sitting outside a business's daily processes, and will have the look and feel of Excel. In time it will be integrated with the Dynamics ERP suite. Down the road, Microsoft plans to take performance management into areas such as planning for operations, workforce management, and sales and marketing.
Gartner's Rayner is impressed with what he's seen of the product so far. "They are not pitching it as a kind of CPM-lite, which would be a much easier thing for them to do," he says. Still, Rayner thinks that it will take PPS two years to settle into the market. In the meantime, he advises companies not to delay deployment of a BPM suite.
Dollars and Sense
The cost of a BPM package can become a roadblock for budget-conscious midmarket CIOs. So, many vendors are trying to minimize the high price tag by offering BPM as an on-demand service. One such company -- Mountain View, Calif.-based Adaptive Planning Inc. -- reportedly claimed that a hosted BPM solution could cost a tenth of a $250,000 in-house BPM solution. Another estimate, by Hyperion partner K2Analytics.com, a division of hosting company Pinnacle Group International of New York, says companies can save between 40% and 60% under the Software as a Service (SaaS) model.
K2Analytics.com signed up eight midmarket companies in the first year of its agreement to offer Hyperion. Other BPM providers are making SaaS-related moves. Earlier this year, Cognos acquired Celequest Corp., a developer of an on-premise appliance that lets users monitor their BPM numbers that are delivered via a SaaS provider.
But not everyone is convinced that BPM works in a SaaS environment. Brown thinks SaaS is fine for companies to try out BPM but that on-demand isn't practical in the long run. BPM, he says, has a lot of different systems feeding into it. "Is that appropriate for SaaS? I don't think so," he says. "SaaS is for things like human resources, sales automation and maybe some simple finance systems, which tend to be discrete systems that are activity/event driven, as opposed to continuous monitoring and measurement, which is the hallmark of CPM."
For midmarkets, another issue is identifying where BPM makes sense. Traditionally, BPM enters a company at the behest of its finance department, which is often mired in Excel spreadsheets and frustrated by the inefficiencies and lack of scalability of that approach. In the past, it was the CFO who brought in the system, often without even consulting the CIO. "We used to sell under the radar of IT," Hyperion's O'Rourke admits.
But now CIOs play a crucial role in the software evaluation process, ensuring that the tools meet the company's overall IT standards and fit with existing infrastructure.
While BPM continues to make its way through the company beginning with the finance department, the technology can spread quickly -- and CIOs should help guide its expansion. Brown has a three-point plan for CIOs who want to play a leading role in driving BPM across an organization:
Top down. Link all chief executives and department heads into the finance department's BPM system. They have a right to know the latest numbers and should have enough business insight to work with the data relatively unaided. Over time, executives will want other members of their departments to have access to the data.
Bottom up. Look for opportunities to introduce operational BPM. For instance, BPM can help retail store managers assess the effectiveness of merchandising and store promotions. In turn, this will improve store efficiencies and enable better local management of stock, margins and resource management.
The trust factor. Guarantee the finance department that the integrity of its data and reporting systems will be preserved. Some BPM systems do so by preventing users from storing Excel spreadsheets locally, allowing them to be saved to only a central location; storing files and data in one place ensures that there is only "one version of the truth" for this information. In addition, build the trust of the CFO and his staff, which will encourage them to loosen their grip on mission-critical finance data.
The Hard Part: Determining Your KPIs
No matter where BPM enters your company, a common misstep is assuming that the software will produce the right performance reports and numbers. Once the decision has been made to implement a BPM system, the hard work begins -- well before the software is installed.
The big challenge is working out which KPIs will accurately gauge performance; too many can lead to chaos. When it started to use the software, Elevations Credit Union, cut the number of KPIs from 10 to two. Senior execs took their time to decide which views of deposits and lending they wanted.
"For CPM to be successful, you have to spend a lot of time from the outset thinking, 'Have we got the right measurements?' as opposed to plunking something down and churning out loads of numbers that you don't know what to do with when you have got them," Brown says. While large organizations hire consultancies to choose KPIs, midmarket companies "have to put the senior management team in a room for two days to start thinking seriously about what business they're in and what the drivers are," he says.
Once the system is installed, various departments must be trained to use it. This is especially challenging in situations where departments formerly produced performance numbers on their own. Now they must learn to use a system that might not include the criteria they used previously and that might produce numbers they don't agree with. "We're still going out and holding training sessions with different groups," says Morton Grove's Sanders. "It's a huge initiative."
Morton Grove has been working out BPM bugs for two years. Some reports, for instance, had to be formatted differently for the sales department to show what's behind the numbers. A check-in, check-out policy ensures that two people in the same department can't run the same report.
Nonetheless, says Sanders, the benefits of BPM continue to roll in. Morton Grove now uses a kind of reverse BPM: If BPM can produce accurate, consistent performance numbers, it can also check for inaccurate numbers. Every day Sanders scans the database and runs a report that looks for errors, such as fat-finger typing where someone has input "222" instead of "22."
But at the end of the day, as its name indicates, BPM is all about performance. "No one likes to have mistakes in their numbers," Sanders says.
John Sterlicchi is a freelance writer in Clearwater, Fla. Write to him at editor@searchcio-midmarket.com.
This was first published in March 2007