An executive guide to IT investment, growth, and development in 2014
In this exclusive guide, uncover emerging IT trends benefiting overall company health and growth to ensure you're realizing full growth and performance potential.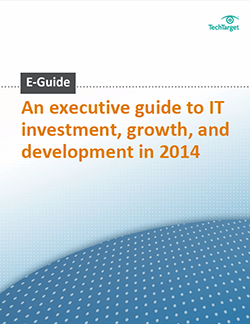 Download this can't-miss exclusive eGuide breaking down crucial IT management trends in 2014
After years of razor-thin margins, IT executives finally have the necessary resources at their disposal to drive value to the business. So, now that you have the essential staff and required funds available, what should you tackle first?
In this exclusive guide, uncover emerging IT trends that are sure to benefit your company's overall health, lead to continued growth, and ensure you're realizing maximum performance potential, no matter what industry you're in.
Compare your own 2014 IT initiatives to those of your peers, both locally and internationally, to make sure you're investing your available IT budgets and resources in the appropriate places – places that position IT as a source of innovation within one's organization, rather than as a cost center.
Download this guide to learn how better IT management translates to business success.
Dig deeper on Leadership and strategic planning