Marquette CIO enhances student safety with virtual patrolling
Marquette CIO Kathy Lang built a virtual patrolling center that uses sophisticated video surveillance and a Cisco wireless mesh to monitor student safety on and around the university's urban campus.
Looking for something else?
Award winner: Kathy J. Lang, CIO, Marquette University

Award-winning project: Built a virtual patrolling center that uses sophisticated video surveillance and a Cisco wireless mesh to monitor student safety on and around the urban campus.

Download this free guide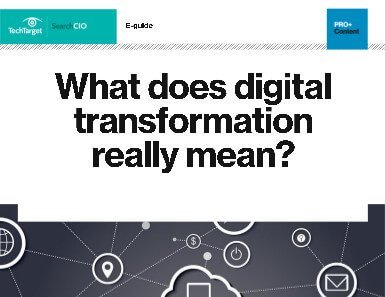 PDF: What does "digital transformation" really mean?
What exactly is digital transformation? You may hear the term often, but everyone seems to have a different definition. See how our experts define digitization, and how you can get started in this free guide.
By submitting your personal information, you agree that TechTarget and its partners may contact you regarding relevant content, products and special offers.
You also agree that your personal information may be transferred and processed in the United States, and that you have read and agree to the Terms of Use and the Privacy Policy.
Hear from our award winner
Listen in as Kathy J. Lang talks with senior news writer Linda Tucci about her work as CIO at Marquette University.
Industry: Higher education

Revenue: $315 million operating budget, $10 million for IT

Number of employees: 2,563 (11,500 students)

Time in job: Six years

Educational background: MBA from St. Cloud State University in St. Cloud, Minn.; Bachelor of Science degree from the University of Mary in Bismarck, N.D.

First job: Electronic data processing auditor at a family-owned bank in Minnesota. That's the job that led me into technology.

Best advice you've ever received: Growing up, we were always taught to work hard, be nice, do the best you can. From a management perspective, I think it is always important to make people feel they are important. My dad was a JCPenney store manager for many, many years, and customer service was a big thing.

Best career move: Getting into IT originally. I really like the fast pace, changes and new things that come along.

Biggest career influence: This is not the traditional path that a lot of people take, especially women. Proving I can do it has shaped my career.
Award-winning IT
Why this project worked: Marquette is located in Milwaukee and subject to the same crime issues as the city itself, so the safety of our students is a top priority. What we were looking for is a way to add more safety without adding head count to the existing staff. The Command Information Center really does that.

What the judges said: Showed real vision and direction; possessed strong leadership skills and, as a result, was able to effectively articulate project expectations and mission.
Best technology decision: PeopleSoft ERP.

Biggest IT challenge: Moving from the legacy environment to an ERP system. It changed every part of our job, from support to the functional users doing processing, to people doing data entry in the back end.

Best personality trait: Good manager. I don't know if that is considered a personality trait. I think I take input from people, listen to what they have to say and try and make the decision based on what would be best overall.

Worst personality trait: Probably being impatient. I want things done and to be right and all that stuff. Demanding, I suppose.

Hobby: I like to cook. I have an herb garden. Reading. Watching my kids, that's a big part. They're at ages where they are all in activities.

Alter-ego career: Probably own my own business somewhere.

Current reading: David Allen, Getting Things Done

Next big technology: For us, it is imaging 7.5 million or more documents in our Registrar's Office that go back to the 1800s. … From the technology perspective, we need to develop a workflow in our ERP system to automate all the movement of those files.

One word of advice to IT pros coming up the ranks: Change is going to happen. If we're not changing, we're not moving forward.

Let us know what you think about the story; email: Linda Tucci, Senior News Writer
Dig Deeper on Small-business IT strategy
PRO+
Content
Find more PRO+ content and other member only offers, here.