Evaluate
Weigh the pros and cons of technologies, products and projects you are considering.
An IT security strategy guide for CIOs
With cyberthreats growing in number and sophistication, security should be a top priority for CIOs -- now more than ever. In this guide, learn how to combat cyberthreats and develop an effective IT security strategy.
Introduction
Despite substantial efforts to contain them, threats to cybersecurity continue to grow and are expected to get worse before they get better, according to experts. In our annual IT priorities survey of nearly 400 North American IT professionals, security once again was identified as an area in which a considerable percentage of IT professionals -- 22% in this year's survey -- devote most of their time. To make sure that time isn't spent treading water, CIOs and IT executives need to develop an IT security strategy that utilizes the right tools and encompasses the many facets of IT -- from mobile and cloud to IoT and analytics and everything in between.
In this Essential Guide, explore the cybersecurity landscape and absorb the latest information around next-generation security architectures, attack detection and response, governmental intervention in the professional threat economy and how companies are handling data breaches.
Our Essential Guides are designed to give IT leaders strategic management and decision-making advice on timely technology topics.
1

IT security strategy overview

-
Designing your cybersecurity roadmap
Due to the continuous onslaught of cyberthreats and the immeasurable number of approaches IT executives can take in the defense against such threats, choosing the right IT security strategy for your organization isn't easy. This section simplifies things for you by delving into next-gen security architecture and tips and best practices for combatting today's cyberthreats.
2

Security culture

-
When it comes to IT security, culture is king
Sometimes the biggest security threat can come from within. Without the right environment, mindset and personnel, an organization's IT security is put at risk. In this section, learn how important it is to inform your people and promote a culture of security at your organization.

Download this free guide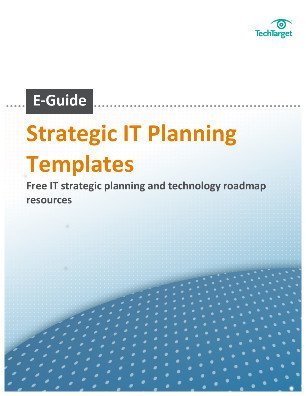 Download 9 FREE Strategic Planning Templates that your Peers Already Use
Having a clear-cut IT strategy is key establishing a competitive advantage over any competition. It can be the difference maker between a business' success and its failure. Reach your business goals and stay organized by downloading this FREE e-guide which includes 9 templates already in use by major organizations such as NASA and Brown University.
By submitting your personal information, you agree that TechTarget and its partners may contact you regarding relevant content, products and special offers.
You also agree that your personal information may be transferred and processed in the United States, and that you have read and agree to the Terms of Use and the Privacy Policy.
3

Mobile security

-
Mobile security is in your hands
If you're not focusing security efforts on mobile, think again. The number of mobile devices now outnumbers the number of people in the world, making securing those devices -- through next-gen tools and some forward thinking -- a priority for any organization. In this section, get tips on how to address mobile security concerns.
Opinion
Next-generation security tools and forward thinking on the part of CIOs are required in today's mobile-dominated world. Continue Reading
News
Mobile payment systems ignite fear among infosec pros, but customer trust and convenience overshadow security concerns at their organizations. Continue Reading
News
Mobile security threats, such as malware and file-sharing data leakage, are escalating across the enterprise. IT needs strong best practices to mitigate these threats. Continue Reading
4

Cloud security

-
Developing a cloud security strategy
As organizations move more and more data to the cloud, cultivating a cloud security strategy is becoming a top CIO imperative. In this section, discover tools and best practices for improving your organization's cloud security.
5

IoT security

-
Security in an increasingly connected world
IoT devices are proliferating at a rapid rate. And the more connected we get the more important it becomes to protect the massive amount of data involved. That's why IoT security is becoming a vital part of any organizations security roadmap. In this section, explore the biggest security concerns raised by IoT and get tips for addressing them.
6

Security budgets

-
Don't spend more, spend right
Investing in security is always a good idea, but throwing money at the problem won't cut it. In this section, find out how to manage your IT security spending efficiently.
Tip
Prevention-focused security strategies won't thwart all threats. CIOs need to shift IT security budgets toward attack detection and response. Continue Reading
Video
In this video interview, Jeff Reich, chief security officer at Barricade.io, discusses how embedding data protection efforts in corporate strategy can reduce information security costs. Continue Reading
Tip
A cybersecurity budget with no restrictions may sound like a dream, but it could actually harm enterprise security, says enterprise security management expert Mike O. Villegas. Continue Reading
7

Security and the government

-
Cybersecurity legislation and CIOs
Cybersecurity isn't just a business priority. Facing new pressures from today's increasing cyberthreats, the U.S. government is realizing it needs to step in to assess the IT security landscape and enact legislation to address some of the top concerns. In this section, find out how the government is responding to increasing IT security concerns and what impact it will have on IT executives.
8

Security and analytics

-
The devil's in the data
Don't underestimate the importance of data analytics in your IT security strategy. In this section, learn how to best tap analytics at your organization to identify, monitor and prevent threats from harming your data.
Video
The rising number of attacks has led to a big increase in cybersecurity intelligence data that can be analyzed to prevent future incidents. But rapidly advancing technology makes it hard to stay ahead of the curve. Continue Reading
Tip
Amid continuous data breaches, companies are turning to data analytics to help identify vulnerabilities and make cybersecurity risk management more efficient. Continue Reading
Photo Story

Next-gen security analytics tools provide proactive and responsive analysis of security events. Nemertes Research CEO Johna Till Johnson explains. Continue Reading
9

Glossary

-
IT security strategy terms