Soft skills is a catch-all term referring to various behaviors that help people work and socialize well with others. In short, they are the good manners and personality traits needed to get along with others and build positive relationships. Unlike hard skills, which include a person's technical skill set and ability to perform certain functional tasks, soft skills are broadly applicable across job titles and industries. It's often said that hard skills will get you an interview but you need soft skills to get -- and keep -- the job.
Download 9 FREE Strategic Planning Templates that your Peers Already Use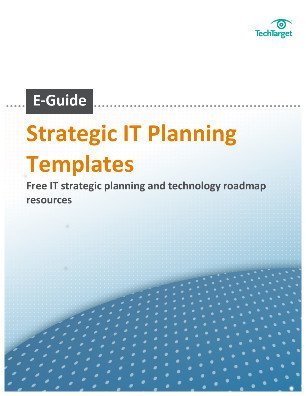 Having a clear-cut IT strategy is key establishing a competitive advantage over any competition. It can be the difference maker between a business' success and its failure. Reach your business goals and stay organized by downloading this FREE e-guide which includes 9 templates already in use by major organizations such as NASA and Brown University.
By submitting your email address, you agree to receive emails regarding relevant topic offers from TechTarget and its partners. You can withdraw your consent at any time. Contact TechTarget at 275 Grove Street, Newton, MA.
You also agree that your personal information may be transferred and processed in the United States, and that you have read and agree to the Terms of Use and the Privacy Policy.

Soft skills encompass good written and verbal communication skills; the capacity to empathize with others; the ability to collaborate and negotiate; and the willingness to solve problems and resolve conflicts.
Sometimes called people skills or interpersonal skills, soft skills also include situational awareness. This means one has the ability to read a situation as it unfolds, consider the appropriate ways to respond and select the responses that will yield the best result for all involved.
Another particular soft skill is adaptability, which is the ability to work in various situations equally well and to move from one circumstance to another without becoming frustrated or incapable of delivering on assigned tasks.
The ability to be diplomatic and respectful even when there are disagreements or conflicts is also a key soft skill. This ability means one can maintain a professional tone and demeanor even when frustrated; it means not rubbing people the wrong way.
An employee with strong interpersonal skills clearly articulates his or her requirements to a team and attentively listens while others explain their needs. He or she negotiates the differences, so that all individuals come away from the interaction feeling that they were heard, understood and respected -- even if they didn't get their way. In that circumstance, an employee with strong soft skills can assess the situation as it happens, so he or she knows when to take a leadership role and when to sit back. He or she also knows when to speak, when to listen and how to suggest compromises.
Companies value such traits in workers because the capacity to speak and listen well, understand other points of view and respond appropriately and in ways that consider others' feelings ensures that people can work well together in teams. Soft skills ensure that colleagues can share ideas and can respect each other in various work situations.
Business leaders find these skills particularly valuable in their technical employees because they often need their technologists to explain complex projects in terms that others can understand yet without oversimplifying or being condescending. And companies need their technologists to fully understand and respect what their nontechnical colleagues and customers hope to gain from their technology tools.
Companies believe that employees who have such abilities not only produce better results for the business, they also help create an enjoyable work environment.
Although many individuals intuitively possess these abilities, many others must work to develop them. A professional coach, self-help books and articles on leadership can help in this process, but self-reflection and self-awareness also can be used to target areas that need improvement. Asking family and trusted colleagues for feedback can likewise help identify which soft skills are weak and which are strong. Observing and emulating how others adeptly interact with others and handle difficult interpersonal situations is another way to hone these important behaviors.
Continue Reading About soft skills
PRO+
Content
Find more PRO+ content and other member only offers, here.
Margaret Rouse asks:

Did you intuitively possess the soft skills required for workplace success or did you have to learn them on the job?