e-business (electronic business)
E-business (electronic business) is the conduct of business processes on the Internet.
Looking for something else?
E-business (electronic business) is the conduct of business processes on the Internet. These electronic business processes include buying and selling products, supplies and services; servicing customers; processing payments; managing production control; collaborating with business partners; sharing information; running automated employee services; recruiting; and more.
Download Our Guide: BPM in the Cloud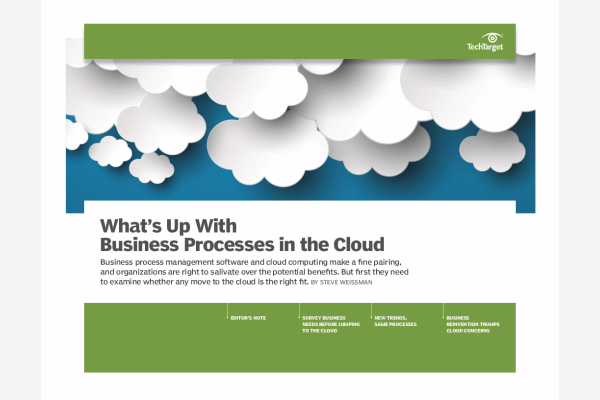 BPM software and cloud computing make a fine pair, but is a move to the cloud the right fit for your organization? Uncover an expert list of considerations you should start with first.
By submitting your personal information, you agree to receive emails regarding relevant products and special offers from TechTarget and its partners. You also agree that your personal information may be transferred and processed in the United States, and that you have read and agree to the Terms of Use and the Privacy Policy.

E-business can comprise a range of functions and services, ranging from the development of intranets and extranets to e-service, the provision of services and tasks over the Internet by application service providers. Today, as major corporations continuously rethink their businesses in terms of the Internet, specifically its availability, wide reach and ever-changing capabilities, they are conducting e-business to buy parts and supplies from other companies, collaborate on sales promotions, and conduct joint research. With the security built into today's browsers, and with digital certificates now available for individuals and companies from Verisign, a certificate issuer, much of the early concern about the security of business transaction on the Web has abated, and e-business by whatever name is accelerating.
IBM was one of the first companies to use the term when, in October 1997, it launched a thematic campaign built around e-business.
Continue Reading About e-business (electronic business)
PRO+
Content
Find more PRO+ content and other member only offers, here.
ITKE asks:

Do you think data security is still an issue with e-businesses?