Vitria
Vitria specializes in integration server software for enterprises.
Looking for something else?
TECHNOLOGIES

COMPANIES
Vitria specializes in integration server software for enterprises. An integration server allows a company to mix packaged applications, custom software, and legacy programs across a network. Vitria competes with SeeBeyond, Tibco, webMethods, and others. .
Download Our Guide: BPM in the Cloud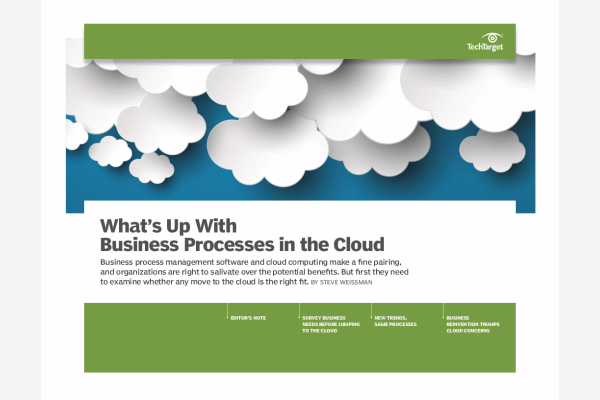 BPM software and cloud computing make a fine pair, but is a move to the cloud the right fit for your organization? Uncover an expert list of considerations you should start with first.
By submitting your personal information, you agree to receive emails regarding relevant products and special offers from TechTarget and its partners. You also agree that your personal information may be transferred and processed in the United States, and that you have read and agree to the Terms of Use and the Privacy Policy.

Vitria's leading product line is called BusinessWare. BusinessWare supports both message-bus and hub-and-spoke integration server models. The message-bus model connects the different applications to a common backbone using application adapters. The hub-and-spoke model connects all applications to a central server. BusinessWare consists of several program layers, including the management layer, the enterprise application integration (EAI) layer, the business-to-business (B2B) layer, the real-time analysis layer, and the common services layer.
Founded in 1994, Vitria is based in Sunnyvale, California. In 2001, Vitria reported $132 million in worldwide sales. Vitria (VITR) is publicly traded on the Nasdaq.
Continue Reading About Vitria
PRO+
Content
Find more PRO+ content and other member only offers, here.