Six Sigma
Six Sigma is a management philosophy developed by Motorola that emphasizes setting extremely high objectives, collecting data, and analyzing results to a fine degree as a way to reduce defects in products and services... (Continued)
Looking for something else?
TECHNOLOGIES
Six Sigma is a management philosophy developed by Motorola that emphasizes setting extremely high objectives, collecting data, and analyzing results to a fine degree as a way to reduce defects in products and services. The Greek letter sigma is sometimes used to denote variation from a standard. The philosophy behind Six Sigma is that if you measure how many defects are in a process, you can figure out how to systematically eliminate them and get as close to perfection as possible. In order for a company to achieve Six Sigma, it cannot produce more than 3.4 defects per million opportunities, where an opportunity is defined as a chance for nonconformance.
Big Data = Big Storage Changes: A Handbook for Success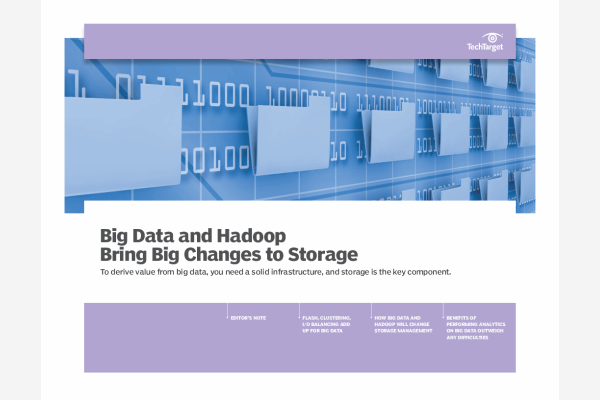 Big data challenges aren't anything new for storage managers, but the tools and technologies to manage this data are changing quickly. Check out this handbook to stay ahead of the market and learn best practices that will help you advance into the world of big data.
By submitting your personal information, you agree to receive emails regarding relevant products and special offers from TechTarget and its partners. You also agree that your personal information may be transferred and processed in the United States, and that you have read and agree to the Terms of Use and the Privacy Policy.

There are two Six Sigma processes: Six Sigma DMAIC and Six Sigma DMADV, each term derived from the major steps in the process. Six Sigma DMAIC is a process that defines, measures, analyzes, improves, and controls existing processes that fall below the Six Sigma specification. Six Sigma DMADV defines, measures, analyzes, designs, and verifies new processes or products that are trying to achieve Six Sigma quality. All Six Sigma processes are executed by Six Sigma Green Belts or Six Sigma Black Belts, which are then overseen by a Six Sigma Master Black Belts, terms created by Motorola.
Six Sigma proponents claim that its benefits include up to 50% process cost reduction, cycle-time improvement, less waste of materials, a better understanding of customer requirements, increased customer satisfaction, and more reliable products and services. It is acknowledged that Six Sigma can be costly to implement and can take several years before a company begins to see bottom-line results. Texas Instruments, Scientific-Atlanta, General Electric, and Allied Signal are a few of the companies that practice Six Sigma.
Continue Reading About Six Sigma
Dig deeper on Enterprise data storage management
ITKE asks:

Does your organization use Six Sigma? How do you feel about its benefits?

ITKE asks:

Which is better: Six Sigma DMAIC or Six Sigma DMADV? Why?