SKIL Bill (Securing Knowledge, Innovation and Leadership Act)
The Securing Knowledge, Innovation and Leadership Act, also called the SKIL Bill, was introduced in 2006 by the United States (U.S.) Congress with the intent of encouraging the immigration of people with certain professional skills into the U.S... (Continued)
Looking for something else?
The Securing Knowledge, Innovation and Leadership Act, also called the SKIL Bill, was introduced in 2006 by the United States (U.S.) Congress with the intent of encouraging the immigration of people with certain professional skills into the U.S. There are two versions of the bill. The Senate version is called S.2691 and the House version is known as H.R.5744.
Download: IT Acronyms - A Quick Reference Guide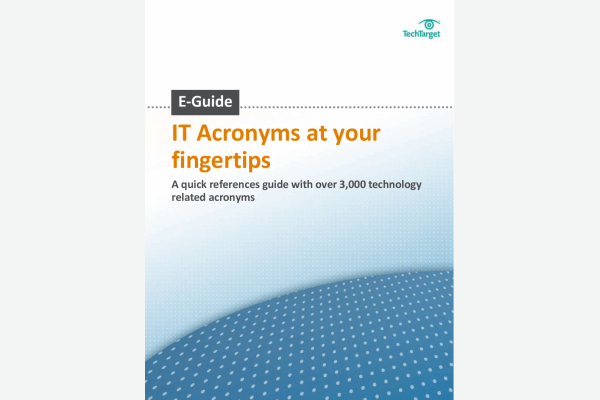 Download this free quick reference guide with over 3,000 IT acronyms; including a special section of the top 15 acronyms you need to know today.
By submitting your personal information, you agree to receive emails regarding relevant products and special offers from TechTarget and its partners. You also agree that your personal information may be transferred and processed in the United States, and that you have read and agree to the Terms of Use and the Privacy Policy.

Either version of the SKIL Bill would increase the annual cap of H-1B visa immigrants by 20% each year the limit is reached. Either version would also ease the immigration requirements for anyone who has an advanced degree in science, mathematics, technology or engineering from a recognized university based outside the U.S., the cap notwithstanding. Any worker who earns an advanced degree from an accredited U.S.-based university in one of these fields would automatically become eligible for a green card. In addition, the pre-certification procedure for green cards would be simplified.
Version S.2691 is sponsored by Sen. John Cornyn of Texas and was introduced on May 2, 2006. Version H.R. 5744 is sponsored by Rep. John B. Shadegg of Arizona and was introduced on June 29, 2006. Sessions of Congress last two years. At the end of each session, all proposed bills and resolutions that have not passed are cleared from the books.
Continue Reading About SKIL Bill (Securing Knowledge, Innovation and Leadership Act)
Glossary
'SKIL Bill (Securing Knowledge, Innovation and Leadership Act)' is part of the:
View All Definitions
Dig Deeper on Business process management
PRO+
Content
Find more PRO+ content and other member only offers, here.