Essential Guide
Big data exploration and analytics for CIOs: Oh, the places you'll go
A comprehensive collection of articles, videos and more, hand-picked by our editors
prescriptive analytics
Prescriptive analytics is a type of business analytics that focuses on finding the best course of action for a given situation, and belongs to a portfolio of analytic capabilities that include descriptive and predictive analytics.
FROM THE ESSENTIAL GUIDE:
Prescriptive analytics is the area of business analytics (BA) dedicated to finding the best course of action for a given situation.
Big Data Analytics: Big Payoff Guide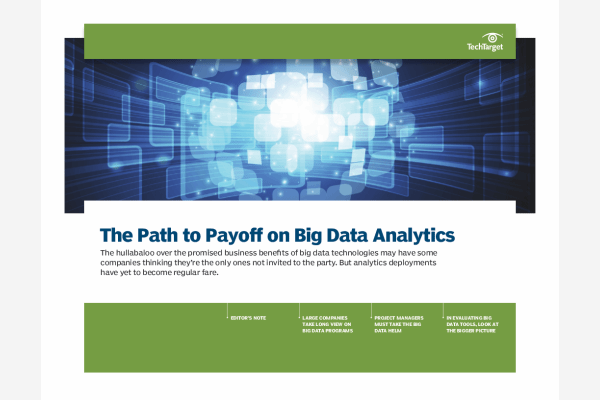 Download this resource for an unbiased look at real-life analytics success stories, including a Time Warner Cable case study, and tips on how to evaluate big data tools. Compiled by the team at SearchBusinessAnalytics.com, this guide will benefit BI and analytics pros, data scientists, business execs and project managers.
By submitting your personal information, you agree to receive emails regarding relevant products and special offers from TechTarget and its partners. You also agree that your personal information may be transferred and processed in the United States, and that you have read and agree to the Terms of Use and the Privacy Policy.

Prescriptive analytics is related to both descriptive and predictive analytics. While descriptive analytics aims to provide insight into what has happened and predictive analytics helps model and forecast what might happen, prescriptive analytics seeks to determine the best solution or outcome among various choices, given the known parameters.
Prescriptive analytics can also suggest decision options for how to take advantage of a future opportunity or mitigate a future risk, and illustrate the implications of each decision option. In practice, prescriptive analytics can continually and automatically process new data to improve the accuracy of predictions and provide better decision options.
A process-intensive task, the prescriptive approach analyzes potential decisions, the interactions between decisions, the influences that bear upon these decisions and the bearing all of the above has on an outcome to ultimately prescribe an optimal course of action in real time. Prescriptive analytics is not failproof, however, but is subject to the same distortions that can upend descriptive and predictive analytics, including data limitations and unaccounted-for external forces. The effectiveness of predictive analytics also depends on how well the decision model captures the impact of the decisions being analyzed.
Advancements in the speed of computing and the development of complex mathematical algorithms applied to the data sets have made prescriptive analysis possible. Specific techniques used in prescriptive analytics include optimization, simulation, game theory and decision-analysis methods.
A company called Ayata holds the trademark for the (capitalized) term Prescriptive Analytics. Ayata is the Sanskrit word for future.
This brief IBM video describes the progression from descriptive analytics, through predictive analytics to prescriptive analytics:
See Ayata's brief video presentation on the potential of prescriptive analytics:
Continue Reading About prescriptive analytics