Essential Guide
IT sourcing strategy guide for enterprise CIOs
A comprehensive collection of articles, videos and more, hand-picked by our editors
multisourcing (multi-sourcing)
Multisourcing (multi-sourcing) is an outsourcing approach, most frequently employed by large enterprises, whereby IT operations and technology infrastructure are contracted to a series of vendors, rather than kept in-house or contracted to a select few providers.
FROM THE ESSENTIAL GUIDE:
Multisourcing (multi-sourcing) is an approach to outsourcing in which IT operations and technology infrastructure are contracted to a number of vendors, usually in combination with some internally provided elements of information technology. The multisourcing approach contrasts with fully in-house IT provisioning and sole-source outsourcing models.
Download: IT Acronyms - A Quick Reference Guide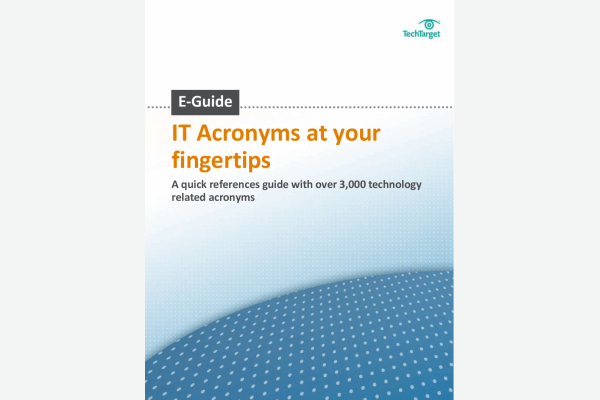 Download this free quick reference guide with over 3,000 IT acronyms; including a special section of the top 15 acronyms you need to know today.
By submitting your personal information, you agree to receive emails regarding relevant products and special offers from TechTarget and its partners. You also agree that your personal information may be transferred and processed in the United States, and that you have read and agree to the Terms of Use and the Privacy Policy.

The purpose is to maximize the effectiveness of an enterprise's IT by ensuring that various elements are sourced to the best possible providers, while allowing the enterprise to maintain its focus on core competencies. Multisourcing can aid enterprise risk management programs by diversifying risk in vendor operations. The practice can also promote competition among various providers, cut costs related to repetitive service contracts and improve quality, collaboration and innovation among a group of IT providers.
Often, a company's IT vendor management office will oversee its multisourcing arrangements with input and guidance from its legal team, IT staff and other executive leadership. A good starting point is to select service-delivery providers with similar corporate cultures. In addition, organizations pursuing a multisourcing arrangement should craft strong internal corporate governance strategies with regard to IT vendor relationships and share the details with all of their service providers to promote better cooperation and more seamless delivery of services across organizational lines.
See also: nearshore outsourcing, onshore outsourcing, offshore outsourcing, business process outsourcing, e-outsourcing,
Continue Reading About multisourcing (multi-sourcing)
PRO+
Content
Find more PRO+ content and other member only offers, here.