Learning Path: E-Business definition
E-BUSINESS... e-commerce - e-business - B2B - enterprise - entrepreneur - e-tailing - e-procurement - B2G - m-commerce - e-brokerage - clicks and mortar - value chain - first mover - return on investment (ROI) - initial public offering (IPO)- public key infrastructure (PKI)
9 Strategic IT Planning Templates to Reach Your Business Goals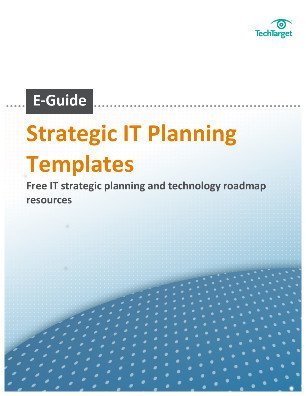 Having a clear-cut IT strategy is key establishing a competitive advantage over any competition. It can be the difference maker between a business' success and its failure. Reach your business goals and stay organized by downloading this FREE e-guide which includes 9 templates already in use by major organizations such as NASA and Brown University.
By submitting your email address, you agree to receive emails regarding relevant topic offers from TechTarget and its partners. You can withdraw your consent at any time. Contact TechTarget at 275 Grove Street, Newton, MA.
You also agree that your personal information may be transferred and processed in the United States, and that you have read and agree to the Terms of Use and the Privacy Policy.

E-PAYMENT... eCash - electronic funds transfer - eCheck - wallet - micropayment - electronic bill presentment and payment(EBPP) - Electronic Signatures in Global and National Commerce Act - authentication, authorization, and accounting (AAA)
E-BUSINESS MANAGEMENT... business intelligence (BI) - data warehouse - data mining - Electronic Data Interchange (EDI) - online analytical processing (OLAP) - enterprise resource planning (ERP) - enterprise relationship management (ERM) - enterprise resource management - enterprise risk management - customer relationship management (CRM)
ADVERTISING AND SALES...brand and branding - advertising terminology on the Internet - sales automation software - permission marketing - opt-in e-mail - e-mail rage - syndication - Information and Content Exchange (ICE) - digital rights management - personalization - spyware - adware
WEB SITE HOSTING... hosting - Web site hosting - virtual hosting - non-virtual hosting - shared hosting - dedicated server - colocation - reseller hosting - e-commerce hosting -
BUSINESS-RELATED XML... BizTalk - ebXML - Small Business Extensible Markup Language (SMBXML) - OASIS
APPLICATION SERVICE PROVIDERS... application service provider (ASP) - outsourcing - business service provider - management service provider - storage service provider - ASPIC
View other topics for self-study by visiting our Guideto the Learning Paths.
PRO+
Content
Find more PRO+ content and other member only offers, here.