ISO 20000
ISO 20000 is a global standard that describes the requirements for an information technology service management (ISM) system. While ISO 20000 was developed to mirror the best practices described within the IT Infrastructure Library (ITIL)...(Continued)
Looking for something else?
ISO 20000 is a global standard that describes the requirements for an information technology service management (ITSM) system. The standard was developed to mirror the best practices described within the IT Infrastructure Library (ITIL) framework. ISO 20000 also supports other frameworks, such as Microsoft's Operations Framework.
BPM in the Cloud: Expert Considerations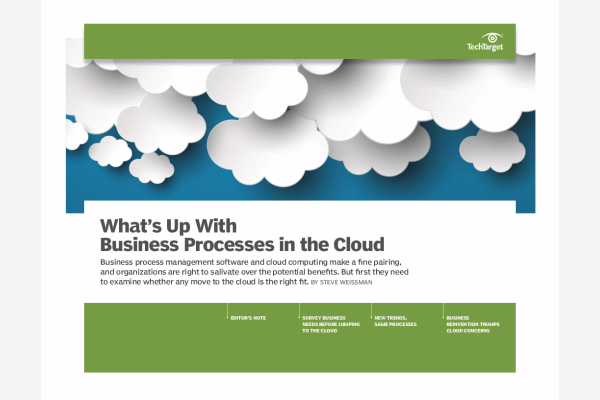 Download this resource for an expert list of factors to consider before migrating to the cloud. Yes, BPM software and cloud computing make a fine pair, but is a move to the cloud the right fit for your organization?
By submitting your personal information, you agree to receive emails regarding relevant products and special offers from TechTarget and its partners. You also agree that your personal information may be transferred and processed in the United States, and that you have read and agree to the Terms of Use and the Privacy Policy.

ISO 20000 is comprised of two parts: a specification for IT Service Management (ISO 20000-1) and a code of practice for service management (ISO 20000-2).
ISO 20000 was formerly called BS 15000 and was developed by the British Standards Institutions (BSI), an international standards, testing and certification organization.
Continue Reading About ISO 20000
Dig Deeper on Business process management