News
Stay informed about the latest enterprise technology news and product updates.
Six 3D printing myths dispelled
CIOs who've taken a more conservative stance on 3D printing may want to think again, according to Pete Basiliere, an analyst at Gartner Inc. "It's imperative that the IT organization be prepared for use and the disruption that will occur when 3D printing is throughout your organization," he said.

Download this free guide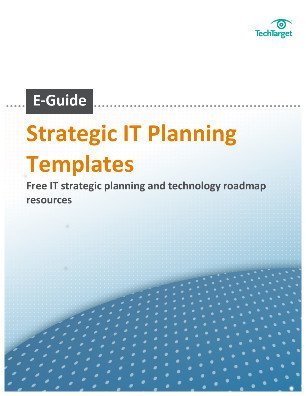 Download 9 FREE Strategic Planning Templates that your Peers Already Use
Having a clear-cut IT strategy is key establishing a competitive advantage over any competition. It can be the difference maker between a business' success and its failure. Reach your business goals and stay organized by downloading this FREE e-guide which includes 9 templates already in use by major organizations such as NASA and Brown University.
By submitting your personal information, you agree that TechTarget and its partners may contact you regarding relevant content, products and special offers.
You also agree that your personal information may be transferred and processed in the United States, and that you have read and agree to the Terms of Use and the Privacy Policy.
That can be hard to do when 3D printing myths abound, giving CIOs the false impression that they can put things off for now, Basiliere said. In that vein, he went on to dispel six 3D printing myths during his talk at the Gartner Symposium/ITxpo. They are as follows:
3D printing is too expensive. 3D printing can be expensive, but it doesn't have to be. Like 2D printers, prices for 3D printers can range from a few hundred dollars (and can be purchased at Staples) to well over a million dollars.
3D printing is only good for cheap plastic parts. Simply not true, Basiliere said. 3D printers are now being used to manufacture key parts for hearing aids and dental restoration, which aren't cheap and, in the case of a dental crown, aren't plastic.
It will bring manufacturing back. "A lot of folks seem to think that it will, but I disagree," Basiliere said. "We will always have products that benefit from being mass produced." 3D printing, though, will enable businesses to mass produce customer personalization. New Balance, for example, can design shoes specifically tuned to a runner's gait. "They'll build soles for shoes that have a unique spike placement for that athlete," he said.
3D printers can print replacement organs. "No, we can't," Basiliere said. "And they probably won't in my lifetime." But a San Diego-based company called OrganOVO can bioprint tissue. The company is partnering with pharmaceutical and cosmetic companies like L'Oreal, which is using bioprinted skin tissue in the cosmetic development process.
Terrorists will print undetectable guns. "No doubt they will try, but it's like the equivalent of counterfeiting one dollar bills," Basiliere said "It's not worth the risk." At least as of right now, it's easier to acquire weaponry in other ways.
The market is in flux. Publicly traded companies, including the two biggest in the industry, "have had a heck of a ride over the last two years," Basiliere said. Stock prices have increased dramatically only to dip lower than original starting prices. "But when I talked to major manufacturers of 3D printers around the world … every other manufacturer said their sales were strong and growing and that they hadn't seen a decline in 2014 or the beginning of 2015."